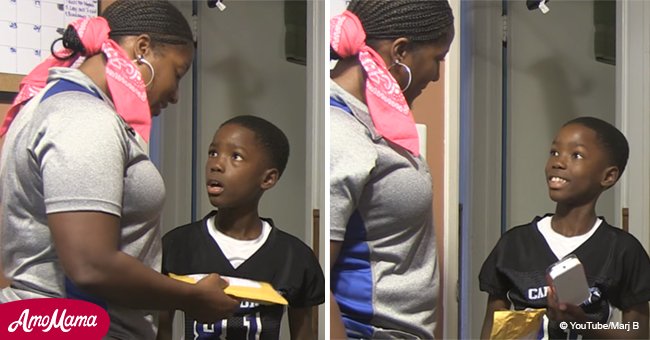 Video of mom pranking her son with an April Fool's birthday gift
A mother was irritated over a package addressed to her son. But it was all a farce.
The mother, who goes by the name Marj B on her YouTube channel, shared a video of herself surprising her son on his 8th birthday.
In the clip, she calls her son's attention while holding a small package. She sounds angry, as if ready to berate him.
Her son gets out of his room and looks puzzled as his mother showed him the package. He looks terrified of his mother.
She asks if he orders products from TV and he denies. She asks him to open the package because it is addressed to him.
Because he struggles to open the package, she takes it from him and opens it herself. Then she hands it back to him.
"What is it?" she asks angrily.
He still looks baffled. But his face brightens up after he read the note attached to the package.
The note reads: 'Happy 8th birthday. Love, Mom.'
He sees his mother smile. "Thank you," the young boy says and happily hugs her mother.
His mother breaks into a huge laughter as she hugs her son back.
Posted to YouTube on October 4, 2014, the video, titled 'Mom pranks kid on 8th birthday', has been viewed more than 17 million times.
The mother received admiration from YouTube users.
'Behind great men are great mothers like this,' wrote Sam Sierra.
Wayne Daten wrote: 'This brings tears to my eyes. So sweet. Great mom, great son.'
Ammar em dabchick also commented: 'The best prank for a birthday, I love it!!!'
Marj B, who has been posting videos on YouTube since May 6, 2010, has had nearly 20 videos.
Her description of her YouTube channel goes: 'Bringing Love and Laughter to a channel near you.'
Please fill in your e-mail so we can share with you our top stories!