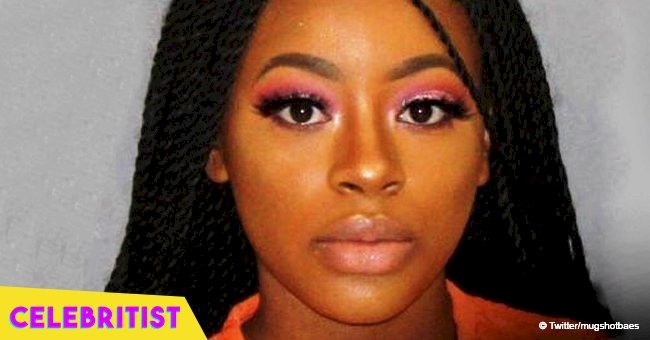 Woman gets requests for makeup tutorials after mugshot pic goes viral

A 19-year-old woman unexpectedly gained fame due to her mugshot. She was arrested for marijuana possession but became an internet sensation due to her makeup skills.
A woman who was arrested for marijuana possession gained unexpected fame after her mugshot went viral. On the night she was arrested, she had just completed a makeup tutorial session on Facebook Live and now her face and her makeup skills are drawing attention.
Marsha Perkins, 19, is a former student of A&M University who was surprised by the unforeseen turnout of her arrest. She said it all started when she got bored one night and decided to do a makeup tutorial which she posted online. She was headed to a party so her makeup session had a double purpose.
While waiting for her friends in her car that night, a Greenville police officer approached her and smelled marijuana. He discovered two grams in Perkin's car which resulted in her arrest.
Perkins was booked at Hunt County Jail where her famous mugshot was taken. Twitter account Mugshot Baes picked it up and posted it on their site. In no time, Perkin's mugshot produced 280,000 likes and retweets.
Adding to her surprise, people have been reaching out to her for her makeup skills. She told Star-Telegram,
"Someone has reached out to me about starting my own makeup line. It's crazy. My mind is blown."
Perkins was initially embarrassed when her mugshot went viral wanting to keep a low profile on her arrest. However, the positive turnout of her photo made her see things in a different light.
"My phone started going crazy. I was still kind of embarrassed about it because it was something I didn't want people to know. But then when I started reading the comments I was like, besides me being in jail people are really noticing my talent and what I can do."
Perkins was arrested in February and released the next day. She now has a YouTube channel with hundreds of followers. She also launched an Instagram account where she does makeup tutorials and accepts bookings.
This isn't the first time a mugshot led to unexpected fame. A California convict with the appearance of a handsome model landed a modeling contract due to his mugshot. Jeremy Meeks, 30, was convicted for gang crime and illegal gun possession charges when his mugshot went viral. Talent agent Gina Rodriguez who saw his blue-eyed photo signed him even while he was behind bars. His bail had been set at $1.1 million and a GoFundMe account was established to raise money for his release. A woman claiming to be his mother who set up the fund said her son was innocent and needed all the help he could get for a fair trial.
Speaking of mugshots, the latest mugshot circling the internet is that of Bill Cosby who was recently sentenced to three to ten years in prison for a sexually related crime. The comedian's mugshot revealed a sad Cosby with his head and eyes down. The 81-year-old had been found guilty of drugging and assaulting Andrea Constand during an incident in his home in 2004. His sentencing had been the culmination of a litigation process that spanned months. He was out on bail at the time he was sentenced. He was first convicted in April.
Please fill in your e-mail so we can share with you our top stories!