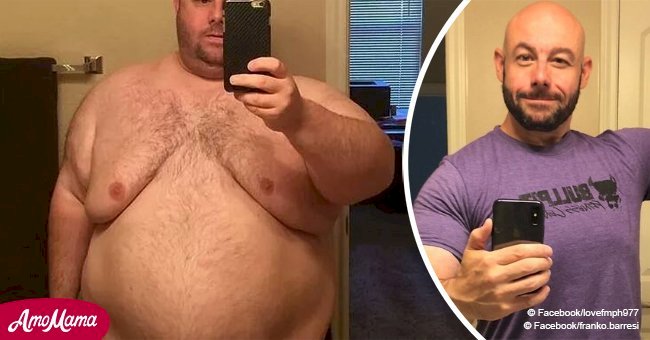 Man loses 222-lbs after wife left him for being too fat for sex.

Having weighed almost 412 lbs (30 stone) at his heaviest Stephan Ringo from Tennessee, USA got divorced in 2016, stating that his weight gain destroyed his marriage due to the effect it had on the couple's intimacy and his confidence.
Picking up weight can go unnoticed or unaddressed making it easier for the situation to get to a destructive level, as was the case with Stephan Ringo.
Ringo said:
"It's fair to say my weight ruined my marriage. It was the single biggest factor. My relationship with my wife deteriorated as my weight crept up. I was depressed and when that set in intimacy kind of left. My weight drove my sex life into the ground. I believe my depression and lack of sex drive ultimately drove my wife away from me."
HOW HIS WEIGHT GAIN HAPPENED
38-year-old software engineer Ringo used to power-lift in his youth, but the appetite he had for fast food was taking over his life stating that he usually went to McDonald's for lunch, driving through the drive-through so the staff would think he ordered for the whole family.
Read more on our Twitter account @amomama_usa.
WHY RINGO DECIDED TO LOSE WEIGHT
Source: YouTube/ SWNS TV
Ringo stated:
"My ex-wife and I went on vacation to New York City in 2012 and my weight really took a toll on me. When you're in New York, there is a lot of walking involved. After a walk in Central Park, I had to sit on a bench to catch my breath for a half an hour. I felt like a failure."After already losing his wife Ringo decided in October 2016 that he needed to lose the weight. He returned to the gym and continued to work out every day no matter how disheartened he felt and practiced intermittent fasting, whereby eating hours are only between 5 pm and 9 pm."
Source: YouTube/ SWNS TV
Just as Ringo shared the secret to his weight loss and the emotional struggles he went through, other people shared as well, including Roseanne Barr who struggled with years of obesity. For her full story follow the link.
For everyone wanting to lose weight, it takes courage, determination and the results in their waistlines can attest to that. As with Ringo's regime through which his waistline went from 60 inches to 32 inches, having shed 222 lbs (16 stone) in only two years and had the following to say:
"Losing this weight has changed my life. Something as simple as being able to put on your socks makes such a difference. I don't feel ready to date yet but I do think I'd be a better partner in the future. I'm so much happier in myself and I think that would make a big difference "
Like Ringo, Hanna also reached a turning point where she realized she had to lose weight. When Hanna's best friend got married she asked Hanna to be a bridesmaid, they could not find a dress that fit her 506 pounds (36 stone) body. To find out what else contributed to her weight loss go the following link for the full story.
Source: Skinny Coffee Club
Please fill in your e-mail so we can share with you our top stories!