Teen with Down's syndrome kicked off the cheerleading team
Glenn Wilson's spirit was crushed when he got news from his school that he would no longer be able to remain on the cheerleading team due to a horrible reason. 
Reported by LAD Bible, Wilson was overjoyed when the West High School in Columbus, Ohio selected him to join the cheer team in the Spring semester 2018. He immediately started to practice the moves he needed.
The 17-year-old had dreamt of being a cheerleader since he was a child. He grew up watching his older cousins take part in such competitions. 
Follow us on Twitter for more @amomama_usa.
"He was the happiest kid when he found out. You would have thought he had just been handed a million dollars and three puppies. He practiced his cheers all sumer at home, and he was showing us his cheers, his splits, and his heel stretches." 
However, his family grew increasingly anxious when the time for Wilson's starter kit to be sent came around and nothing arrived. The school should have delivered training schedules and uniform costs in the summer. 
Wilson's grandmother, Carolyn Sue Morris, described the situation: 
"He kept asking when practice was going to start. At the end of August, the cheer supervisor called and said that she didn't have a spot for him on the team, but that he could be a water boy."
When nothing came she reached out to Ray Valentine, Wilson's uncle. He called the school to find out what was going on. 
Ray, a florist, was promptly told that Wilson was no longer welcome on the Cowboys cheer team. The coach absurdly explained that the young boy did not conform with the "image" of the squad. 
According to Ray, she said:
"I'm the coach, I make the final decision."
Wilson's 47-year-old uncle later exclaimed: 
"My nephew didn't fit 'the image' she wanted for the squad so she removed him. This is just an absolute mess. It is total discrimination."
Furthermore, the coach said she "didn't have any experience in dealing with special-needs students" like Wilson. The Columbus Board of Education investigated the occurrence and conceded that mistakes might have been made.
Morris, 69, is Wilson's legal guardian who has been caring for the boy since he was a baby. She said: 
"I just wonder how many other kids have been discriminated like this, because it's so unfair." 
At a Columbus city school board meeting, Ray described people's reaction to the story as being "speechless and in total shock." 
Upon returning to the school, Wilson was allowed to participate in at least two of the school's football games, but he was allegedly still forbidden from squad training.
Morris said the kids "just love him," and that "he deserved his place on the team." 
Source: YouTube/ Epic Viral Videos
Meanwhile, Scott Varner, a spokesperson for Columbus City Schools, called Wilson "a full member of that cheerleading team" and also said, "he is not being excluded in any way." 
However, Ray asserted, "We won't give up until the coach is forced to reconsider her position." 
A similar case in 2011 led to one family receiving damages of $300,000 from a school district. 
The parents of 14-year-old Cheyenne suspected that their daughter was being bullied when she started to inflict self-harm to avoid going to school.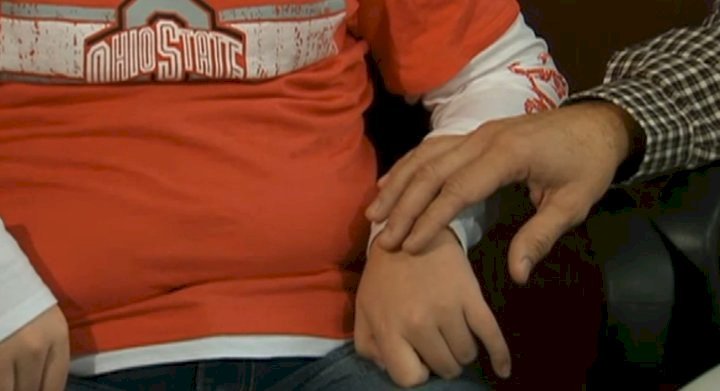 They put a recorder on her and captured the moment a teaching aide named Kelly Chaffins commented on the student's weight. 
When they brought it to the school board, Chaffins was forced to resign, the classroom's teacher went on unpaid leave, and the family received compensation for their emotional distress.
The atrocious treatment of special needs persons is unwarranted and shows the ugly hearts inside of people who practice such behavior. 
Earlier this month, Stefan Xidas displayed just how far special needs people can go in life when he sang the "Star-Spangled Banner" at Wrigley Field in front of 40,000 fans. 
Source: YouTube/ Chicago Cubs
The Cub's owner agreed to a request by the 30-year-old. After lots of practice, Xidas, a Special Olympics athlete, performed his heart out at the game.