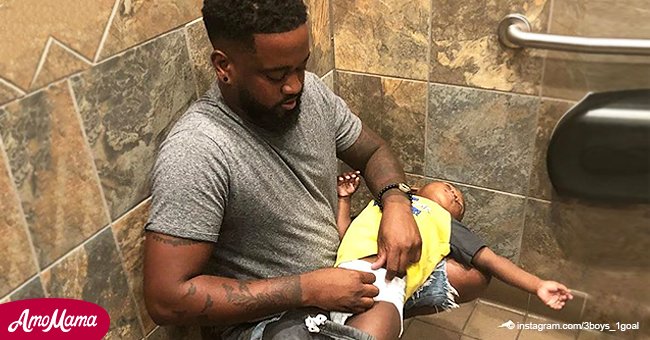 Dad takes internet by storm with his request for changing tables in men's bathrooms

A man started a hot debate when he demanded equal facilities for fathers in men's restrooms.
Donte Palmer is the father of three boys, and as a hands-on dad, he has changed his fair share of diapers. Indignant with the lack of conditions for fathers in men's restrooms, he has come out with a demand that changing tables should be provided in male facilities, just like they are in women's bathrooms.
To illustrate his point, Palmer posted a photo of himself on Instagram/3boys_1goal changing his son's diaper with the baby precariously perched on his knees.
In the photo he is crouched against the wall, while his son, obviously enjoying the fun, stretches out his arms.
"This is a serious post!!! What's the deal with not having changing tables in men's bathroom as if we don't exist!! #FLM #fatherslivesmatter clearly we do this often because look how comfortable my son is. It's routine to him!!!!"
Donte Palmer, Instagram/3boys_1goal, September 23, 2018.
A DAD'S OUTRAGE GOES VIRAL
A trending news website, The Shade Room, caught on to his post and shared it with the caption: "Let's fix this problem! I Kaepernick drop a knee to this issue! @theshaderoom let's show the innovation of fathers!"
The post has sparked a round of discussions about men's changing roles in parenting, with many men complaining that society is not acknowledging the needs of dedicated dads.
A SITUATION MANY DADS HAVE TO FACE
Palmer is the father of three boys aged 12, 7, and 1-year-old, and he is a veteran of diaper changes in awkward spots, a situation he hopes his post will change by raising awareness of the issue.
PARENTING ROLES ARE CHANGING
Palmer explains that he - and many other men - have become as involved in child-rearing as their wives, and therefore need the same type of facilities to cater to their baby's needs.
THOUSANDS COMMENTED AND AGREED
Palmer seems to have hit a sweet spot, as thousands of men (and women) have chimed in to comment on his photo and agree with his demand. Equality, it seems, must swing both ways.
ANOTHER DIAPER-CHANGING DAD
But being a hands-on dad like Palmer is not for the faint of heart or weak of stomach.
A recent video was posted that showed a very different side to modern fatherhood. A South African dad, clearly inexperienced, tacked his daughter's diaper change to hilarious results.
Apparently, the little girl had been eating spinach, and the resulting poo was ripe, to say the least.
While the mother filmed - and laughed - the father started to change the diaper. But the poor man started to gag, then he eventually vomited. This dad needs to take a lesson from Palmer on the fine art of diaper changes.
In a related story, Adam Levine's wife shared a beautiful photo of the celebrity dad and their daughter to commemorate Father's Day.
Please fill in your e-mail so we can share with you our top stories!