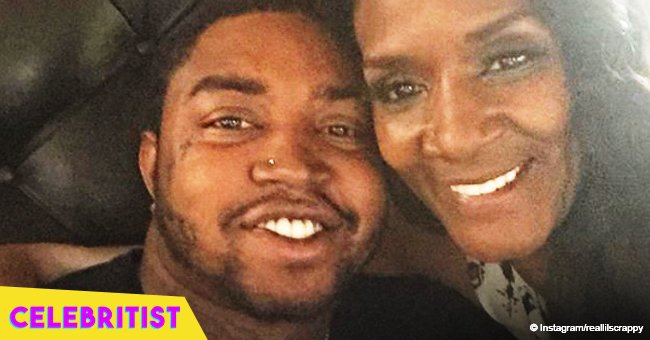 Lil Scrappy's mom, 55, celebrates grandson's birth, passionately dancing with husband in new video
Deborah Gaither, better known as Momma Dee, celebrated the fact that she and her grandson share the same birth date by going all out in the dance floor with her husband, Ernest. After it was revealed that the couple would be joining the reality show "Marriage Boot Camp."
If there's someone else happier than Lil Scrappy and his wife Bambi Benson for the birth of their first son, that's Scrappy's mother. Momma Dee was elated when hearing the news of Bambi's pregnancy, and she even attempted to do some renovations to the couple's home without their consent.
The 55-year-old broke in their Atlanta home to "babyproof" it, paint it and build a nursery, but as shown in one episode of "Love & Hip Hop: Atlanta" Lil Scrappy and Benson were not having Dee's non-sensical behavior.
However, that didn't stop the reality star from celebrating in her way when her grandson was born on September 21, which happens to be her birthday. First, Momma Dee shared a photo from a baby onesie adorned with the words "Little Prince," as she shared the baby's weight and his name on Instagram:
"The Prince has arrived 8 pounds 3 ounces and 21 inches #Prince Breland #on the queens birthday #newbornbaby."
Later, Momma Dee posted a video from the real celebration, as she hit the dance floor with her husband, Ernest Bryant. In the clip, Momma Dee is wearing a sleeveless black sparkling jumpsuit that hugged her curvaceous figure while she danced to Drake's "In My Feelings" with Bryant.
Dee showed her best moves while singing to the song and acting seductively in front of her husband, as she bit on her fingers like if she was on a hip-hop music video.
"Dancing the night away with my hubby @tharealkingbk celebration of my Birthday and our grandson Breland wonderful night," she captioned the video.
Fans took over her comment section to share their thoughts on the video, and while some praised Momma Dee for her moves, others thought her attitude was embarrassing for a woman of her age. "o embarrassing from the clothes to the dance and they think is cute. Humanity is lost," wrote one user.
Another added, "Get it Mona Dee, HAPPY B'DAY... and congratulations on the new grandbaby," and a third one said "Happy, blessed birthday!! Be nice to your husband."
MARRIAGE BOOTCAMP
Last month, it was announced that Dee and Ernest would be joining the new season of "Marriage Bootcamp" where they hope to fix their marriage in front of the cameras.
In one of the trailers for the show, Ernest accused Dee of having drinking problems, while she stated that she's tired of her husband's nagging and of him being a "mama's boy."
"He could be the king if he just stepped up," Momma Dee stated.
The new season of the show was filmed a few months ago, and it seems like there's a happy ending for this couple, if their celebration is anything to go by.
Please fill in your e-mail so we can share with you our top stories!