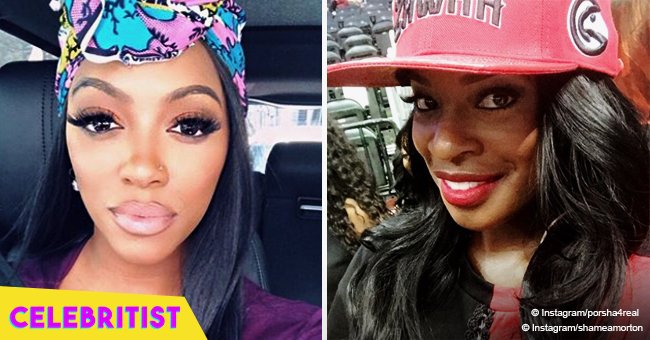 Porsha Williams and Shamea Morton flaunt their baby bumps in tight outfits in picture together
Porsha Williams surprised fans this month with the announcement of her pregnancy, and now that she's free to roam the streets with her baby bump, the "Real Housewives of Atlanta" star is bumping along with longtime friend and fellow co-star, Shamea Morton.
The longtime best friends reunited in Las Vegas and Porsha documented the trip with a beautiful pic of the two moms-to-be showing off their respective baby bumps and proving that even when pregnant, they can keep their fashion sense on point.
In the pic, Porsha is rocking a thin strap black dress with lace details, paired with a floral print kimono and flat sandals, while Shamea went for a body-hugging floral print jumpsuit with a plunging neckline. Both women had their wavy hairs falling down their backs, as they got ready for a girls' night out in the city.
"Bumping with my boo in Vegas! "Momma gotta have a life too" @shameamorton #BumpMate," Williams captioned the Instagram post.
Fans took over the comment section to gush about the pregnant ladies and their glowing smiles. User @babaymama411 wrote:
"Congratulations to you both I think you both will make great moms and may you both be blessed with two healthy babies both of you look great being pregnant got to say it still got that look."
While @sank420 said:
"Congratulations to the both of you. It's wonderful that your bestie's children will be born in the same year."
And @tiarn27 added:
"Aww, so cute Y'all get to be pregnant for the first time together! Congrats to you both and Kenya!"
Fans are loving to see Shamea, who's having a baby girl on November, and Porsha getting along again after the momentary fall out they had last year on the reality show. However, after so many years of friendship, they managed to fix their issues and are now enjoying the sweet journey to motherhood together.
THE BIG REVEAL
Porsha, 37, kept her pregnancy in secret for a few months because she was afraid of sharing the good news before being sure the baby was fine, as she suffered a miscarriage six years ago. In an interview with People, she said:
"I've had a miscarriage before in my past, which I've also been open about because I suffer with fibroids and had to have a myomectomy. So just the fear of, 'Is the baby going to be okay? Will I make it full term?' All those questions that you ask if you've had a miscarriage before."
Now, she couldn't be happier about the prospect of starting a family with her boyfriend, Dennis McKinley, even though the baby was not planned.
"The pregnancy came from the left, but it definitely has brought us closer together because you realize when it sets in that you are actually bringing a life to this world, that you have become family overnight," she explained.
Talking about possible names, Porsha revealed that Dennis want to call the baby Porsha Jr. if it's a girl, but she's not so sure about the decision.
"I think she's going to be mad, like, 'Really, Mom?'," she said. "And then I'm going to have to try to explain it, and he's probably going to deny that it was all his idea."
Please fill in your e-mail so we can share with you our top stories!