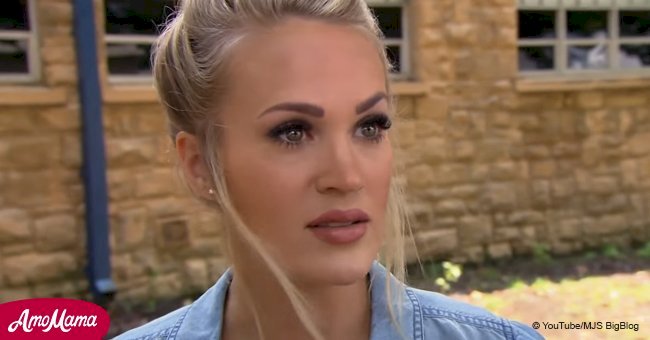 Carrie Underwood opens up about miscarriages and her faith in God

Music superstar Carrie Underwood recently announced her second pregnancy with husband Mike Fisher and talked about her miscarriages and faith in God.
Carrie Underwood needs no introduction, known worldwide for her voice, this country singer is not only a superstar but also a wife and mother to her 3-year-old son, Isaiah.
THE ROAD LEADING TO THIS POINT IN HER LIFE WAS AN UPHILL BATTLE
Underwood decided 2017 would be the year she worked on new music and have a baby, but the year did not go as planned.
Read more on our Twitter account @amomama_usa.
Early 2017 Carrie got pregnant but ended in miscarriage. Mike and Carrie put their trust in God and moved forward. She said:
'God, we know this just wasn't your timing, and that is all right. We will bounce back and figure a way through it."
After another two miscarriages followed and led Carrie into a dark and angry place. While home alone with her son one night Carrie thought she was having another miscarriage and cried out to God in prayer and said:
"For the first time, I feel like I actually told God how I felt. And I feel like that's what we're supposed to do."
She went to the doctor a few days later, and it surprised her to hear she was still pregnant and doing good, upon which she said:
"He heard me."
However, after announcing her pregnancy Carry became ill and canceled two upcoming appearances in the United Kingdom. Her record label said:
"Carrie Underwood has been forced to cancel several upcoming promotional activities in the UK. She looks forward to resuming promotion for her new album, "Cry Pretty," soon."
Carrie's faith played a big part in getting through the setbacks and challenges her family faced. Trusting in God during the dark times will see us through it all.
Kelly Clarkson, 36, encouraged Underwood to talk about her miscarriages and faith before the announcement of Underwood's pregnancy. As a public figure you can help and inspire someone, Kelly had nothing but praise for Underwood and said:
"It's so important that you talk about it. I know you don't have to because it's a hard thing to do, but it makes women who feel inferior or feel like something's wrong with them, it makes them feel comfortable and that people go through it."
Please fill in your e-mail so we can share with you our top stories!