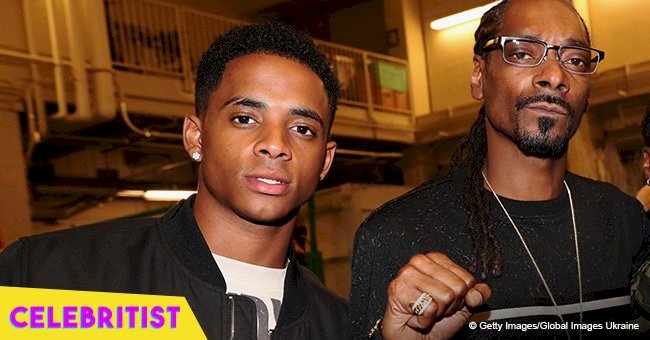 Snoop Dogg reveals how he feels about his son quitting football after studying the dangers of CTE
Snoop Dogg son's Cordell Broadus decided to quit to his football career last year, and now, he's walking in runaways and making big moves in the fashion world. The rapper recently opened up about how he took the news, considering he's a big football fan and had big expectations for Cordell.
Snoop Dogg is not only one of the most iconic rappers of our time, but he's also an author, cook, movie star and football fan. So, when his son Cordell Broadus started to play football back in high school and seemed to have decided that was his career path, the rapper was more than happy.
Now that Cordell is no longer part of the sports industry and, instead, is walking down the runaways and modeling for important brands in the fashion industry, Snoop confessed on his recent visit to "The Wendy Williams Show," how he felt about Cordell's decision.
After researching CTE (Chronic traumatic encephalopathy) a disease found in people who have multiple head injuries and that often affects football players, Snoop was relieved about his son leaving the game before it was too late.
"My son is very smart for getting out early and maintaining his mind-state," he told Williams. "It was difficult for him [to break it to me] because he said he had played for me his whole life and he wanted to play for himself."
CORDELL'S DECISION TO PURSUE HIS REAL DREAMS
Cordell joined UCLA and its football team as a wide receiver, but he quit the team on two occasions. First in 2015, when he failed to appear on the field for practice in August but later rejoined the team in March, and for the last time in 2016, when the head coach, Jim Mora revealed that Broadus was no longer with the team because "he is going to pursue other passions in his life."
Those passions were filmmaking, his college major, modeling and designing clothes. "I think it's important to see your passion. I'm not just one person, who loves one thing. I love a lot of stuff. I've got multiple passions," he told GQ magazine earlier this year.
Deciding to stop playing football was not easy, but Cordell realized he wasn't playing because he wanted, but because it was a way of getting closer to his father.
On a touching Instagram he shared for Snoop's birthday back then, the boy confessed:
"I played football for my father because I thought that was the only way he would love me & be apart of my life. It took me 12 years to realize he loves Cordell Broadus the person, not Cordell Broadus, the football player. The best day of my life was when I heard those exact words; I love you dad hope you have a great birthday."
FOOTBALL VS. FASHION
Cordell confessed that his football background had helped him in fashion, even if the fields couldn't be more different from each other. "Fashion and football, those are two different worlds. I took the risk of being judged," he said.
"But every day you can be judged. It just depends on how you feel about it. And it takes time and consistency to show someone what you're trying to be."
The 21-year-old keeps on impressing people in the fashion world while making huge strides with his career and balancing it with his studies. When asked about the person he was back then on the field, and the person he's now, Cordell said:
"I would never want to be the same person. I feel like I'm evolving—all this new information, all this that I'm taking in. I'm much more. I think that's the beauty of it."
Please fill in your e-mail so we can share with you our top stories!