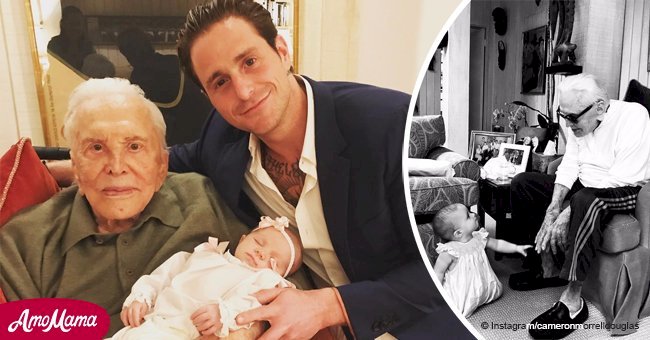 101-year-old Kirk Douglas recently met his great-granddaughter

9-month-old Lua Izzy is the daughter of the legendary actor's grandson Cameron and his Brazilian girlfriend. Recently, the longevous star met the little girl and the two were captured in an adorable photo.
On August 27. 39-year-old actor Cameron shared the lovely black and white snapshot on his Instagram account. The meeting of the two builds a bridge that crosses four generations, as Little Things reported.
"Love" was the sole word Cameron, who is the son of Academy Award winner Michael Douglas, 74, used a caption for the picture. Read more on our Twitter account @amomama_usa
In the image, the iconic "Spartacus" star proves to be in an incredible shape considering he is 101 years old. Kirk is sitting on a coach wearing Adidas sweatpants and sunglasses while him and Lua look at eachother.
The baby is kneeling in the floor very close to her great-grandfather and she reaches for the old man's hands. We are thrilled to see the centenarian being so fortunate as to spent time to his youngest descendant.
The post has received more than 4.000 likes and many positive comments from Instagram users, who were so pleased with the family meeting.
"Wow, does that little munchkin know what an icon her great grandad is[?]"
-@kezeeral, Instagram, 2018.
"This picture is many things: cute, endearing, wonderful, generous as well as cool. And those track pants - only Mr Douglas [senior] could rock those. Thank you for sharing Sir! You're v[ery] kind," wrote Instagram user "juls7070."
Cameron's girlfriend Viviane Thibes, a 40-year-old yoga instructor and actress gave birth to Lua Izzy on December 18, 2017, bringing great joy to the famous family, specially to Michael, who was looking forward to become a grandfather.
"Since Viviane has given birth to a beautiful healthy girl on Monday afternoon, I've been at their side ever since. I'm very happy," Cameron told People soon after Lua's birth.
Before Lua Izzy met her great-grandfather, her parents had decided to pay tribute to the patriarch of this clan of stars with the choice of the baby's middle name, which is how Kirk, who was born Issur Danielovitch, was called in his youth.
Even after having lived for more than a century, Kirk doesn't show any sign of slowing down, and he makes sure to take great care of himself by regularly exercising.
His son Michael revealed to Daily Mail recently that Kirk still had a personal trainer at his service to help him with his workout routine to help his system function properly.
By the end of August 2018, Kirk was seen taking a walk out in Los Angeles, nearby his home, in the company of two nurses, who helped him get up from his wheelchair and watched him as he moved around with the help of a walker.
Please fill in your e-mail so we can share with you our top stories!