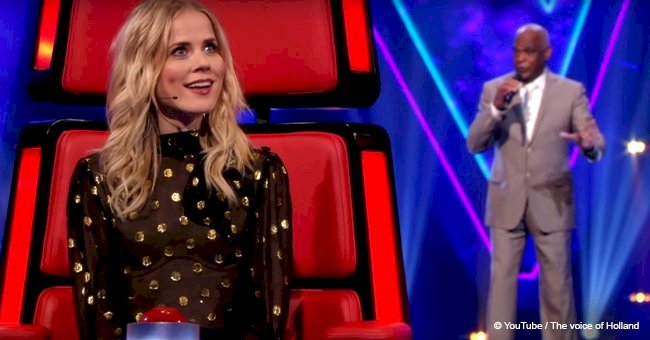 Senior 'The Voice' contestant prepared an incredible song nobody expected to hear
René Bishop from Willemstad, Netherlands Antilles took the stage on The Voice of Holland Senior. Bishop performs his chosen song "Unchained Melody" and the audience goes quiet while his voice weaves through the words.
During 'blind auditions' the judges of The Voice of Holland Senior are positioned to face the audience therefore not able to see the contestants, so initial evaluation is purely done on the quality of their voice.
Source: YouTube/The voice of Holland
Bishop walks on stage and music is cued. The audience quiets down when the music start. Captivating the audience the moment he starts singing with pleasantly surprised looks from judges as their eyes widened at his melodious baritone voice.
The video shows the judges living themselves into his rendition of the song, waiting for key areas highlighting the tones of his voice. Having won over the audience they cheer and clap at regularly expressing their appreciation for his talent.
Source:The voice of Holland
The judges' excitement builds as his performance continues talking back and forth amongst each other visibly impressed by what they hear. René maintains a beautiful tone and pitch during his performance leading to all judges trying to hit the buzzer first. As he finishes the song both judges and audience alike leap to their feet cheering.
Performances like the one from Bishop serves as a reminder we are never too old to do anything, another example is 71-year-old ballroom dancer Quin Bommeije originally from Thailand.
She took up ballroom dancing 10 years ago driven by her love for the dance, and when she became a contestant in 'America's Got Talent' jaws dropped at her and her partner, Misha Vlasov's routine to Fleur East's 'Sax' as they stunned the crowd, much like René Bishop's performance.
Source: YouTube/The voice of Holland
The Voice of Holland Senior is a competition solely for contestants over the age of 60, although referred to as seniors, the contestants are young at heart and want to share their love for singing. Similarly, a choir in Massachusetts called Young@Heart came to life in 1982 in a Massachusetts housing project as a way to pass time with ages ranging from 73 to 92.
They recently performed at Smith College with PS22 Chorus, which comprise 5th graders from Staten Island. The senior and the young come together to sing Bob Dylan song, 'Forever Young', the lyrics reminiscent of their spirit. "May your heart always be joyful, and may your song always be sung; May you stay forever young...."
Please fill in your e-mail so we can share with you our top stories!