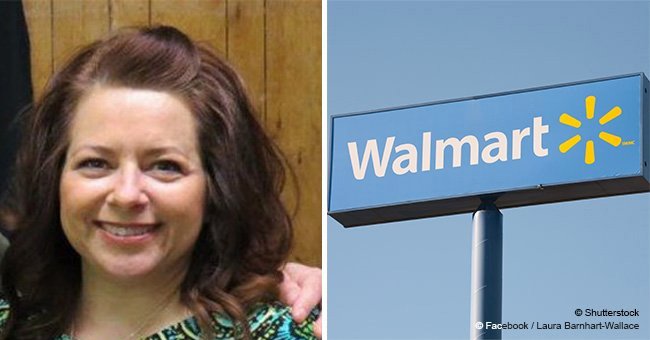 Woman finds alarming note hidden in a new purse she bought at Walmart
A woman from Arizona stumbled upon a mysterious note inside a bag she purchased at Walmart. After studying it, she found out it was written by a hopeless Chinese prisoner who was asking for help.
When Christel Wallace received a gift card from her daughter-in-law, she decided to treat herself to a purse at Walmart shop, as reported by NTD. However, she didn't use the purse for a few months, but one day in March 2017, she finally opened the bag and, after checking all its compartments, she found a note written in Chinese characters.
At first, Wallace didn't think much of the note and, since she couldn't understand it, she threw it in the garbage. But curiosity made her retrieve the letter back, and after asking for help, her daughter-in-law, Laura, helped her to translate it.
Follow us on our Twitter account @amomama_usa to learn more.
"It actually stated that the person who wrote that was a prisoner in China," Laura told News4Tucson.
"Basically what their situation was and how they work long hours, 14 hours a day. And they don't have a lot to eat."
"I'm very sure that that's exactly what the note says," Laura added.
THE NOTE'S TRANSLATION
The note, as translated by NTD, reads:
"Inmates in the Yingshan Prison in Guangxi, China, are working 14 hours daily with no rest/break at noon, continue to work overtime until 12 midnight, and whoever doesn't finish his (or her) work will be beaten."
"Their meals are without oil and salt. Every month, the boss gives inmates 2,000 yuan (approx. US$317) and any additional dishes will be finished by the police."
And continued: "If the inmates are sick and need medicine, the cost will be deducted from their salary. Being a prisoner in China is worse than being a horse, cow, sheep, pig, or dog in the U.S."
"My heart went into my stomach," Wallace told Arizona Daily Star.
WALMART'S STATEMENT
Not every day someone founds a cry for help from the other side of the world while looking for the lowest price at a retail store. The bag cost Wallace $25, and the reason behind its low cost will pierce her conscience forever.
Laura said that since she didn't have the means to help in a more significant way, she decided to share the story. "I think this was my way of putting in my two cents," she added. "I don't want this to be an attack on any store. That's not the answer. This is happening in all kinds of places and people just probably don't know."
A Walmart spokesperson explained that didn't have the means to verify the origin of the letter but assured that they have tight requirements from their suppliers that specify all work put into their products should be voluntary.
However, looking to cut down on prices, suppliers might hide the real source of their products, and big companies like Walmart can easily choose to play dumb and look to the other side, as long as the end cost is beneficiary for them.
Walmart has been accused on several occasions of work exploitation by the New York-based advocacy group China Labor Watch. Li Qiang, the group's executive director, told Snopes that despite their policies, Walmart is a problematic company.
"Regular factories can't afford such [a] low budget to produce the products. Usually what happens after is Walmart contracts with [a] prison that will accept the low budget to produce its products."
He also revealed that is rare for notes like this one to make it out of prison camps in China. But is not the first time that something like this happens.
OTHER SIMILAR CASES
In 2012, a woman from New York City found a note asking for help inside a shopping bag she bought at Saks Fifth Avenue. The letter, written in blue ink, was signed Tohnain Emmanuel Njong and had a small color picture of a man in an orange jacket. There was also an email account.
Njong was released a year later, and he came forward to explain that in his three-year prison sentence, he wrote a total of five letter. Some in French and others in English. He had been teaching English on Chinese city of Shenzhen when he was arrested and charged with fraud, a crime he said he never committed.
Also, in 2011, a woman in Oregon found a note from a Chinese prison camp in a package of Halloween decorations she bought at Kmart. The note pleaded anyone who found it to report it to the World Human Right Organization, saying, "Thousands of people here who are under the persecution of the Chinese Communist Party Government will thank and remember you forever."
Two years, CNN tracked down a man named Zhang who allegedly was the author of the letter, one of twenty he wrote while serving his time in prison.
Like Zhang and Njong, there are thousands more of people inside Chinese prisons being subject to slave work, is not something new or something the world isn't aware of, is just one of those situations that people choose to ignore.
Please fill in your e-mail so we can share with you our top stories!