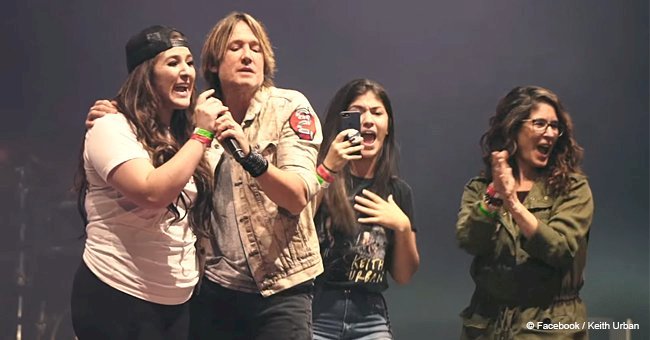 Keith Urban fan steals the show with her stunning voice at a concert
Australian country star Keith Urban invited a fan to sing a duet with him, and she blew him away.
On September 23, 2018, Keith Urban was performing in Alberta Canada as part of his Graffiti U Tour which started on June 15, 2018, in Maryland Heights, Missouri.
As part of his act he invited a fan up on stage to sing a duet with him, and he posted the video on his Facebook/ KeithUrban where it has garnered over 400,000 views in three days.
Urban had seen a girl in the audience with a funny sign proclaiming: "I will trade my sister for a chance to sing with Keith Urban."
The girl was 22-year-old Michela Sheedy and she had been attending Keith Urban concerts in Alberta for 8 years, and getting called up on stage was a dream come true.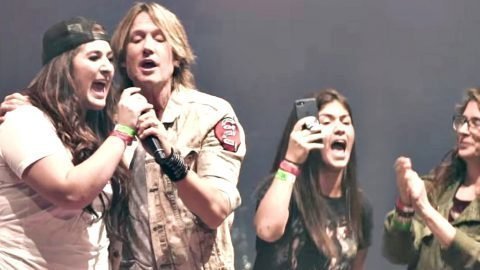 Source: Facebook/KeithUrban
"I had a moment to myself and said 'OK, keep it together. Remember your words… Me and him are singing into the same microphone and it was crazy. His face was practically on my face."
THE WHOLE FAMILY ON STAGE WITH KEITH URBAN
After calling Sheedy up to the stage, Urban then invited her sister and mother too, then he asked Sheedy what she wanted to sing with him.
To his astonishment, she started belting out the song "We Were Us" which Urban had recorded in 2013 with country star Miranda Lambert.
AN ASPIRING COUNTRY SINGER WITH A FABULOUS VOICE
Sheedy, who had styled herself a "professional country singer" when Urban asked what she did, revealed a powerful, exquisitely trained voice, as good or better than many Nashville performers.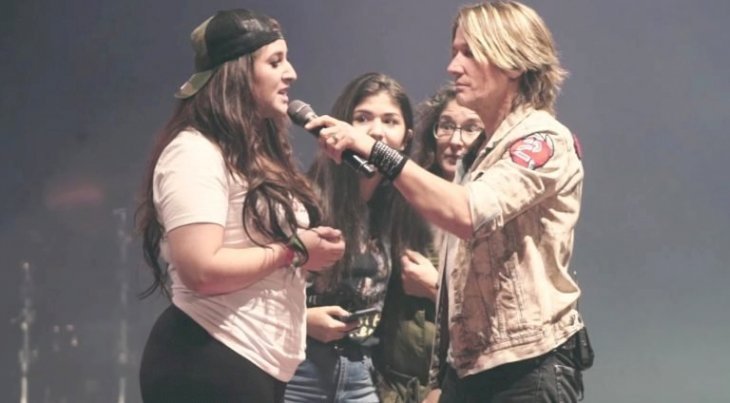 Source: Facebook/KeithUrban
AN EFFORTLESS DUET THAT WOWED THE AUDIENCE
As Sheedy sang, Urban joined her at the microphone, and their voices blended perfectly in what seemed an oft-rehearsed performance.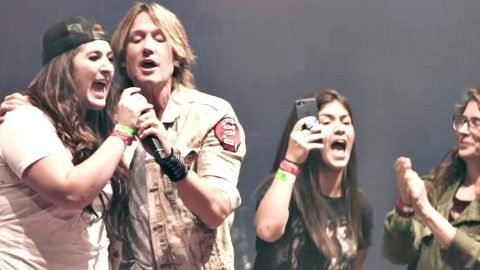 Source: Facebook/KeithUrban
DAZED TO BE SINGING WITH HER IDOL
Sheedy was to confess late that she had been nervous and had to give herself a running pep-talk in order to keep herself steady.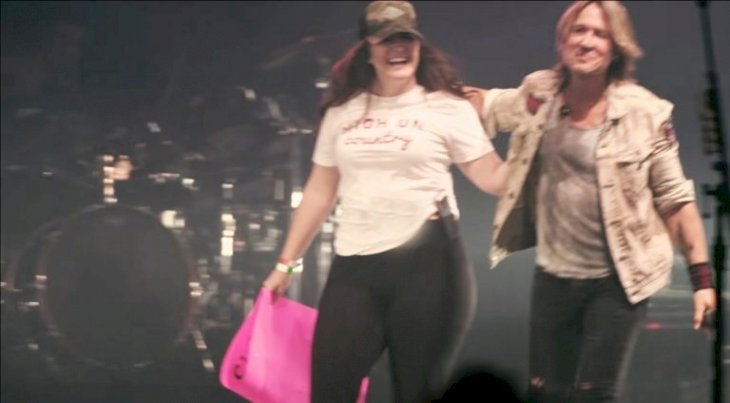 Source: Facebook/KeithUrban
URBAN WAS CLEARLY IMPRESSED AND HUGGED SHEEDY
At the end of the interlude, Urban showed his appreciation for Sheedy's talent and gave her a congratulatory hug. Sheedy is hoping this opportunity may help her forward her career as a country singer, and maybe share the stage with Urban again one day.
A HIT DUET WITH A COUNTRY STAR
The song that Sheedy chose to sing is one of Urban's greatest hits.
As a partner, he chose country star Miranda Lambert and the resulting single was received to critical acclaim and reached the top 30 on the Billboard Hot 100.
In a related story, Keith Urban saw a man was holding a sign that read "can I play your guitar?" while his girlfriend's sign shared that it was the young man's birthday. Urban invited the man on stage and got the surprise of his life.
Please fill in your e-mail so we can share with you our top stories!