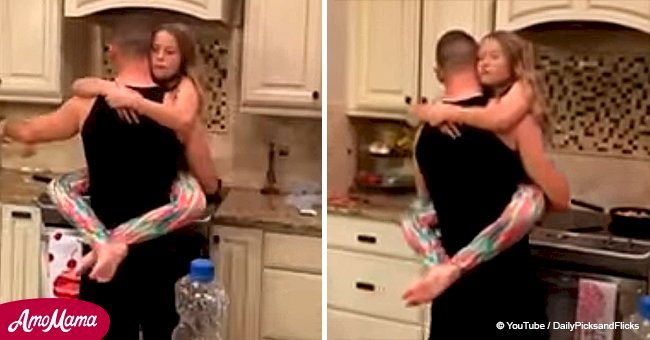 Dad dances adorably with his daughter while cooking in the kitchen
A daughter/ father dance is sparking controversy on social media.
A video of a father and daughter dancing was posted on YouTube by DailyPicksandFlicks and has been viewed an astonishing 15.913.376 times.
The video is described by DailyPicksandFlicks as a man who is cooking in the kitchen interrupting his task to waltz with his daughter to soothing music.
What is sparking outrage is that the girl is an adolescent and that the whole scene strikes many as disturbing an inappropriate.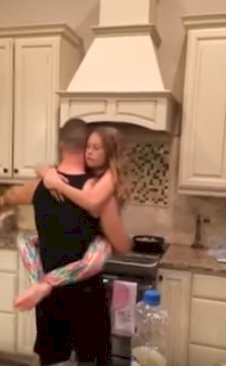 Source: YouTube/ DailyPicksandFlicks
"If it was inappropriate why is the person who is recording it not saying anything?"
Comment, YouTube by DailyPicksandFlicks
A LOVING DANCE OR INAPPROPRIATE BEHAVIOR ON THE FATHER'S PART?
Dads and daughters dancing together is an integral part of many women's most magical memories. For some, it is a dance at their Debutant Ball, or at their wedding, or at a doll's tea party.
Dad is often a little girl's first and best dance partner, so what is it about this clip that is sparking such heated debate.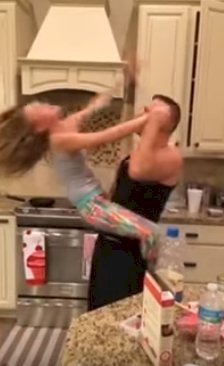 Source: YouTube/ DailyPicksandFlicks
A SLOW DANCE TO A SWEET SONG
The clip was filmed by the girl's mother and shows her daughter leaping into the father's arms as he is cooking dinner. The man continues to cook without «missing a beat, and proves he is a genius at multitasking as he dips and sways to the sound of "Thinking Out Loud" by Ed Sheeran.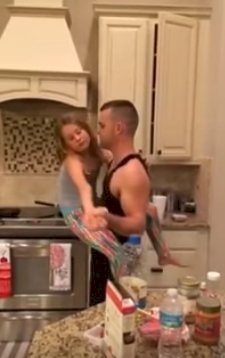 Source: YouTube/ DailyPicksandFlicks
ISN'T THE GIRL TOO OLD FOR THIS KIND OF DANCE, VIEWERS ASK
What seems to disturb most detractors is the girl's age, which seems to be 11 or 12, and the fact that she has her legs wrapped around her father's waist. For some, there is a disturbing hint at something not quite innocent in the incident.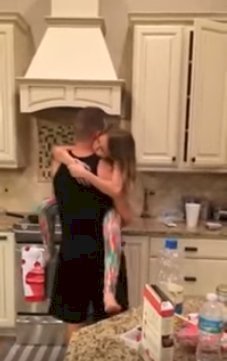 Source: YouTube/ DailyPicksandFlicks
OVERVIGILANCE TURNS AN INNOCENT MOMENT SOUR
While some call out that there is something unhealthy in the video, others point out that the rise in vigilance that is supposed to protec children from potential predators is also tainting lovely and loving moments with unwarranted suspicion.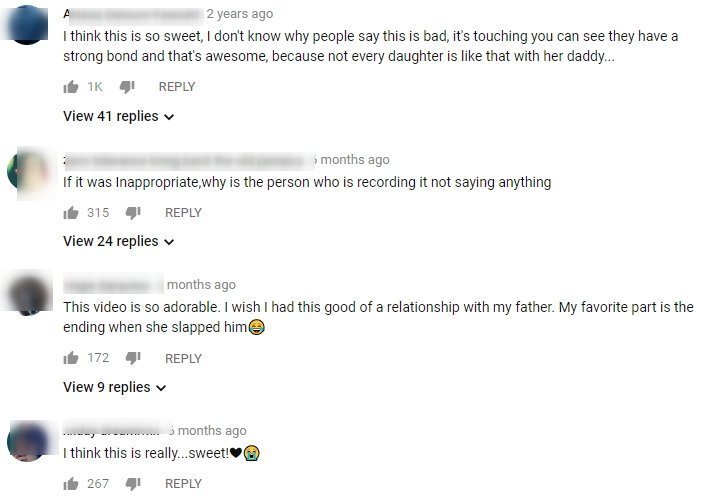 Source: YouTube/ DailyPicksandFlicks
A DAD IN A TUTU IN BALLET CLASS
In Bermuda, a dedicated dad stepped out onto the stage alongside his anxious daughter to provide support.
Father of 3, Marc Daniels isn't the type to don a tutu, but a dad must do what a dad must do when his toddler is in distress. The respected barrister was called onto the stage to help calm down his two-and-a-half-year-old Bella who had begun to cry.
Seeing that Bella was suffering from stage-fright, Daniels, who was carrying his youngest baby, Sun, started performing the routine along with the children, and Bella settled down and danced along.
His performance was such a hit with the children and the staff that the In Motion School of Dance has invited Daniela to perform alongside the girls again.
In a related story, a bride kicked off her wedding festivities in a hospital, having a father/ daughter dance with her grievously ill father.
Please fill in your e-mail so we can share with you our top stories!