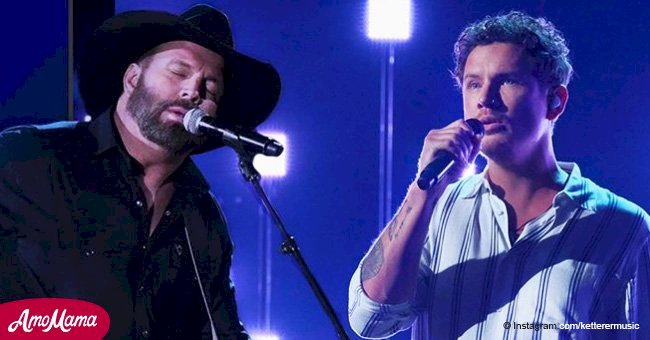 2-year-old boy doesn't let a fence stop him from playing fetch with a neighbor's dog

The video of a boy and a neighbor's dog seemed to have restored faith in humanity for all those who witnessed the touching sight.
The clip was posted to Twitter in July 2018 by Chad Nelson, a photojournalist, and the boy's father.
It has since garnered over a million likes, almost 300,000 retweets, and 7,600 comments.
Follow us on Twitter for more @amomama_usa.
In the short clip, a young boy, Conway, ran through a grassy yard to pick up a ball. He threw it over the fence and some movement is seen beyond the tall barrier.
Then, a friendly dog, Dozer, leaped up and returned the ball with its mouth.
The boy repeated his action and this time we see when the yellow labrador jumped up to fetch the ball. He once again returned it to his playmate.
The caption gave a clear description of the heartwarming moment:
"A fence can't stop my two-year-old from playing with his new best friend."
According to TwinCities, in a later interview with teacher-wife Cassie, Nelson told the media:
"Honestly, we just think it's great that people are finding some form of joy seeing our son doing normal kid stuff."
He added:
"I posted it just thinking our family and friends would think it was cute, but when KARE retweeted it, that kind of started the momentum."
Cassie had apparently gone with the couple's infant daughter along with Conway to visit a friend in Savage for a playdate.
Erin Richter, the friend, filmed the heartwarming event.
Nelson explained that Richter is accustomed to the dog's antics as her son also plays fetch with him now and then.
The adults were still surprised when Conway went and tossed the ball to the dog that day.
Nelson, however, revealed that he's been training Conway for a while now and used to play baseball in college himself.
"We love baseball. I put a ball in his hand when he was two months old. He would make the motion that he was throwing it and he would laugh and giggle."
The Nelson family is no stranger to the four-legged canines. They own two Chihuahua mixes. But their dogs refuse to play fetch with Conway.
Still, having a pet around a child is known to give several benefits. According to the Huffington Post, they can teach children empathy, confidence, and responsibility.
Additionally, animals help children's social and verbal skills, and all in all are very therapeutic.
Science shows they help lower blood pressure, speed up recovery time, and reduce stress and anxiety.
Back in June 2018, a desperate cow tried to communicate from behind a fence.
The female cow started calling out for help for her baby. Dave, who had decided to record a field of cows near Millbrook, Ontario, observed the cry.
Apparently, the cow named Flo had just given birth and her newborn calf had slipped under the electric fence.
Separated from his mother and on the wrong side, Dave stepped in to try and reunite the two.
Source: YouTube/ Rumble Viral
He used a stick to lift the fence and attempted to nudge the calf over. Dave and the calf both received some shocks throughout the ordeal.
Eventually, however, Dave was able to get the calf safely to his mother's side. After some sniffs, the mother appeared reassured that her baby was alright and went further into the field.
Please fill in your e-mail so we can share with you our top stories!