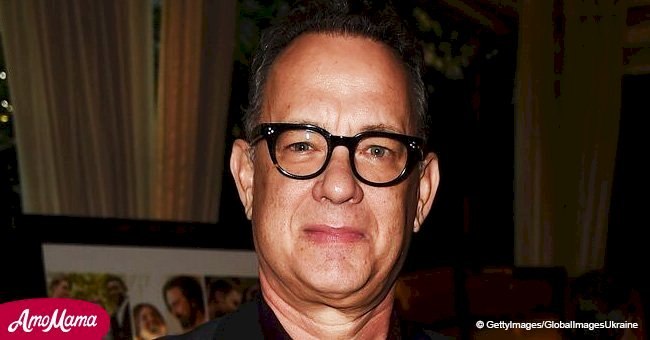 Tom Hanks rocks a rare bright outfit from the 'Mister Rogers' movie

TriStar Pictures graced fans of the "Mister Rogers" series with a picture of Tom Hanks in Rogers' signature outfit. The photo immediately brings to life the look and feel of the beloved man.
They released the picture on Thursday and the world was thankful for the nostalgia-inducing red sweater and taupe trousers.
Hanks sat in a trailer and looked at the camera. His hair was painted a light grey and covered his smiling face. The picture is found below.
Follow us on Twitter for more @amomama_usa.
He held a book in his arms, not unlike the regular practice of the character he would be portraying in his upcoming role.
The film, which will be titled "You Are My Friend," is directed by Marielle Heller. She also worked on films "Can You Ever Forgive Me?" and "The Diary of a Teenage Girl."
According to EW, Heller described the film as a "timely story of kindness triumphing over cynicism."
It will chronicle the real-life friendship between journalist Tom Junod, played by Matthew Rhys, and Fred McFeely Rogers, the host of "Mister Rogers' Neighborhood."
The two developed their relationship when Junod profiled Rogers for Esquire magazine back in 1998.
Heller explained :
"I disliked that when it got announced it was characterized as [a biopic]. It's really not. It's a movie that's largely focused on a reporter and [Mr. Rogers'] relationship to his life, and how [the reporter's] whole world changes when coming in contact with Fred Rogers."
She continued:
"It's a story for our times, a story about kindness and family connection and trying to tap into our better self. God knows we need that right now!"
She added that "In the research for the movie, the writer found that more people than they could possibly count credited Mr. Rogers with changing their lives..."
"[It's about] one man who's in a critical point in his life - becoming a new father, having issues with his own father - and meeting Mr. Rogers to write a piece about him, thinking it's going to be a bit of a puff piece, but it ends up changing his entire life."
Hank, a two-time Oscar winner, is not only still active on the big screen. Earlier on Tuesday, the actor implored Americans everywhere to go out and vote.
"Not just for your big boys who show up on the cable TV news station, but also for your local folks - people who really impact your lives."
The actor participated in a voter registration rally at Soldiers and Sailors Memorial Hall and Museum in Oakland, Pittsburgh.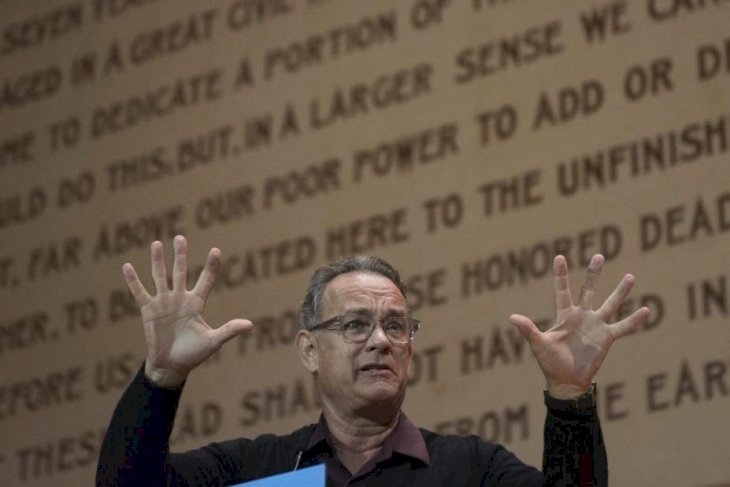 Source: Trib Live
The event fell under a nonprofit organization named "When We All Vote," which was started by Michelle Obama in July. Many celebrities are involved.
Hanks reached out on a more personal level when he responded to a request from a young girl suffering from leukemia.
Last month, Aspen Kelly asked online for postcards to be sent to her from all over the world since she was unable to travel herself.
Much to her surprise, she received a postcard from Hanks who was in Greece at the time.
"Aspen, I hope this arrives in time for your happy 13th birthday! Love you! Tom Hanks."
Kelly compared the handwriting to a sample online to confirm that it was indeed the acclaimed actor.
She then shared the kind act online on Facebook with a note and a thank you message directed to Hanks.
Please fill in your e-mail so we can share with you our top stories!