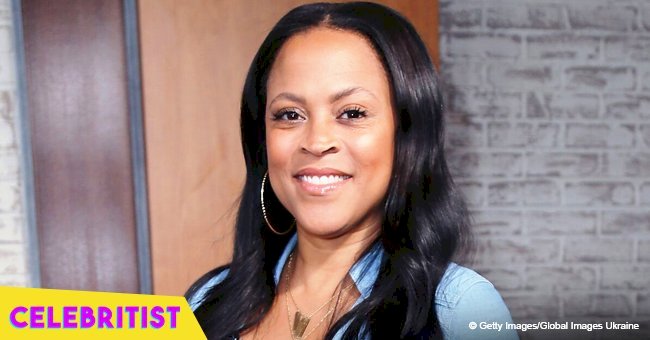 Shaunie O'Neal shares photo with grown-up son Shareef in blue sweatshirt & round glasses

"Basketball Wives" star, Shaunie O'Neal shared a photo with her and NBA legend Shaquille O'Neal's son, Shareef, amidst recent unpleasant development about the boy's health.
Shareef O'Neal, 18, was pictured in a group shot, flanked on both sides by his mother and another man.
Towering above every other person in the photo, Shareef donned a blue UCLA sweatshirt, black pants, and round-rimmed glasses. Shaunie also went casual in a black T-shirt and ripped jeans.
The photo comes after news broke that Shareef, who officially signed a letter of intent to play at UCLA in August, will miss the 2018/2019 season due to a heart condition.
The defect was detected by UCLA doctors during a routine checkup for the rising basketball star.
"Thank God the UCLA medical staff caught it early," Shareef said. The 6'10" forward is scheduled to undergo surgery, after which he will take off time to recover. He hopes to resume playing in 2019.
Shareef, a chip off the old block of his Hall of Famer dad, Shaquille, has been touted as one of the top "UCLA Bruins" recruit for the 2018 class.
Head Coach, Steve Alford told reporters last month:
"He's an outstanding addition to our incoming class and brings a terrific combination of size, skill, and athleticism. We love the length and height of this year's team, and Shareef is really going to add to that dynamic. He has a terrific frame, one that will allow him to continue improving on both sides of the floor."
Before signing on to UCLA, Shareef led his High school basketball team to a historic win, proving that he is indeed, his father's son.
Shaquille is yet to make a statement concerning his son's news, but we can assume all hands are on deck to make the best of the situation.
Shaunie revealed earlier in May that she and Shaquille are finally in the right place and co-parenting successfully.
"We're great now, but it took a long time," she said. "Now I think we just got over the hump and I've always kind of been [like], 'What's best for the kids,' and I'll make it happen no matter what. Even if he and I can't see eye to eye, I didn't want them to ever be affected by it, and I think he felt the same way."
The reality star, however, shut down any rumors that she and Shaquille were getting back together. "No, that's not happening," she insisted.
Shaunie and Shaquille are parents to three other children, son Shaqir, and daughters Amirah and Me'arah. Shaunie also has a son, Myles, from her previous relationship.
It's good to know Shareef has a close-knit family to support him through these trying times. Get well soon, Shareef.
Please fill in your e-mail so we can share with you our top stories!