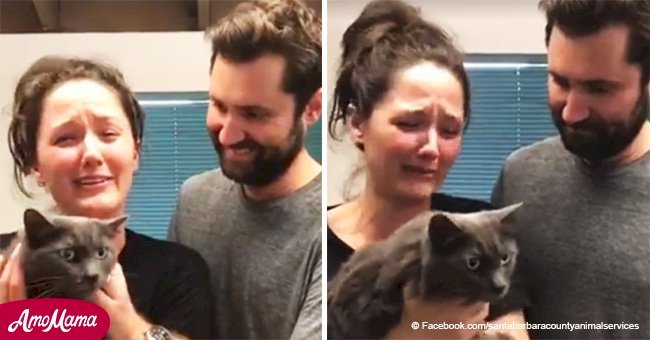 Distraught woman reunited with lost cat in emotional video
Tear-Jerking footage shows Lindsey and her husband, Woody Thompson, reunited with their missing cat.
The couple didn't know if they'd make it out alive when the mud came. They even left farewell messages for one another, as reported by The Dodo.
After their street was blocked and home crushed by the destructive Montecito mudslide months ago, Lindsey and Woody were rescued by helicopter. However, the couple's dearest feline, Koshka, didn't make it out of the destruction.
Follow us on our Twitter account, @amomama_usa, to learn more and scroll down to watch the video below.
The two, who were desperate to be reunited with their pet, immediately contacted Santa Barbara County Animal Services (SBCAS) for help.
But it soon became very evident that discovering Koshka among the rubble wouldn't be simple.
According to a Facebook post by SBCAS:
"Our teams went to the property as soon as we were able, but we were not able to access the property safely. Our teams continued to check the property daily since January 9, but were losing hope as we could not safely access the remainder of the home."
The officer with SBCAS, Michael Snyder-Pennon, and an accomplice from the local ASPCA were finally able to approach securely and creep through a window into the house.
There, they discovered Koshka, her delicate gray fur covered in mud, appreciative to see her rescuers.
Stacy Silva, the community outreach coordinator for SBCAS, clarified that in the wake of the catastrophe, animal services has been working extra time in the field.
The moment when Koshka was finally reunited with her folks was uplifting for everybody in the room.
Silva told The Dodo, "It was an absolute emotional high, is the best way to put it. The tears were flowing, but they were happy tears, and tears that needed to be released because of all the destruction that has taken place."
"This was one huge act of hope for those people who are still missing their pets from the mudslide," Silva added.
SBCAS posted the clip of the heartwarming get-together on its Facebook page, and the moving moment is currently being shared around the world.
"We needed something like this to happen for our family," Lindsey says in the video. "Our house is totally destroyed … but we're safe — and now Koshka's safe."
"We knew that she was alive, we knew that she was smart and would find a safe spot to be, and she did," Woody says. "She has amazing instinct."
The pair thought they had lost everything, but because of the sacrificial endeavors of the rescue workers, their family is complete once more.
Please fill in your e-mail so we can share with you our top stories!