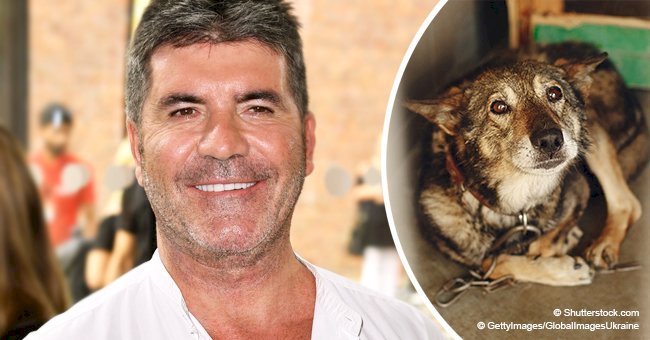 Simon Cowell saves over 200 dogs from being slaughtered with generous donation
Famous "America's Got Talent" judge Simon Cowell made a generous donation of over $32,000 to help shut down a South Korean dog meat farm.
The music producer made the donation to Humane Society International, one of the charities that address animal issues on a worldwide scale.
The news was shared by HSI through their official Twitter page, saying that the money will be a great help in bringing down the cruel dog meat farm.
Follow us on our Twitter account @amomama_usa to learn more.
SAVING LIVES
The organization claimed that Cowell's money will allow them to save over 200 dogs and puppies from a South Korean dog farm that breeds the animals for human consumption.
The plan is to travel to South Korean within the next week in order to save the dogs, which will then be transported to several countries, such as the United States, Canada, the United Kingdom and the Netherlands.
WHAT IS THE GAME PLAN?
HSI's objective is to find loving forever homes to those dogs, something that they had never experienced before. Sadly, this is true for millions of dogs that are caught in the horrendous meat market.
Many of these animals are stolen, picked up from the streets and bred for the sole purpose of being killed and have their meat sold to restaurants across Asia.
ANIMAL CRUELTY
The dogs are born, grow up and live in conditions that are so cruel that it brings many animal lovers to tears; they are grouped and confined to extremely small cages, with barely any room to breathe.
They are also beaten, denied food, water and affection. Although the dog meat consumption is declining in South Korea, there are still thousands of dog farms and factories currently active.
Closing down these places of sadness, cruelty and horror is of utmost importance and everyone could help by making a small donation to one of the 83 charities that are currently fighting the problem.
THESE EVENTS MUST BE BANNED!
In June, the HSI managed to save 135 dogs from being slaughtered at THe Lychee and Dog Meat Festival, held in the Guangxi Region, China.
Chinese activists successfully negotiated the dogs' release and captured shocking footage of the inside of the slaughterhouses, with dogs crammed into bloodied wire cages.
Please fill in your e-mail so we can share with you our top stories!