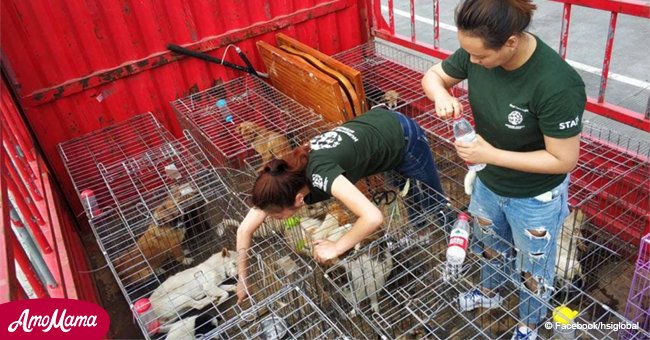 Animal activists rescue 135 terrified dogs from China's dog meat festival

Chinese activists working with Humane Society International have saved more than a hundred dogs ahead of this year's Yulin Festival in China's Guangxi Region.
The annual event, also known as The Lychee and Dog Meat Festival, started on Thursday the 21st of June and will end on Saturday the 30th. Hundreds of dogs and cats will be slaughtered.
This year, Chinese activists who negotiated the release of 135 dogs, captured shocking footage from inside the slaughterhouses, showing dogs crammed into bloodied wire cages.
"What I saw will haunt me for months, I have never seen dogs so scared like these ones. [...] They were terrified because they had seen the killing of probably 50 dogs that morning."
Allen, an activist in China, HSI, June 18, 2018.
The activists remarked that the slaughterhouse was filthy, with blood and feces covering the floors and added that the air was "oppressively offensive."
The rescued dogs were taken to a nearby shelter where they received emergency care, food, water; and most importantly, love.
According to News Hub, it is estimated that more than 14 million animals are killed annually, with thousands to lose their lives at the Yulin Festival.
International campaigners working with Chinese activists have collected more than 235,000 signatures in an attempt to end the practice.
The Humane Society also pointed out that the Yulin Festival was founded eight years ago, and is not a traditional festival. It was invented to boost profits.
Contrary to popular belief, most people living in China don't consume dog meat. It is estimated that less than 20% of the population eat dog meat.
The Humane Society partnered with Care2 and 87 Chinese animal protection groups and the letter was handed over to authorities in Beijing.
To stay informed about upcoming rescue missions to save dogs from certain death, follow our official Twitter page, AmoMama USA.
Please fill in your e-mail so we can share with you our top stories!