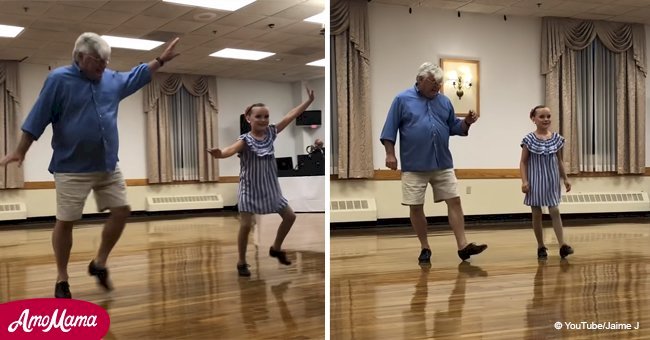 Grandfather and granddaughter become an internet sensation with their special tap dance routine

Maeve Jones is lucky to have a very special 72-year-old grandfather. He has all the tap-dancing moves to make her look even better than she is.
Bill Jones is Maeve's adorable grandfather who joined her in performing at her summer recital last week.
Maeve, who is just 10, had been working with her grandfather on the choreographed dance for an hour every week for six weeks.
Follow us on Twitter for more @amomama_usa.
According to WHDH, they practiced and performed in Reading, Massachusetts at the From the Top Dance Center.
Maeve described how the heartwarming display happened:
"It's crazy. My mom says my grandfather loves to dance, and I asked him if he wanted to do a tap duel with me, and we did it. And it's amazing."
Her grandfather added:
"They're probably aren't too many tap-dancing grandfathers around. I was very proud to do it, and I was surprised at the response."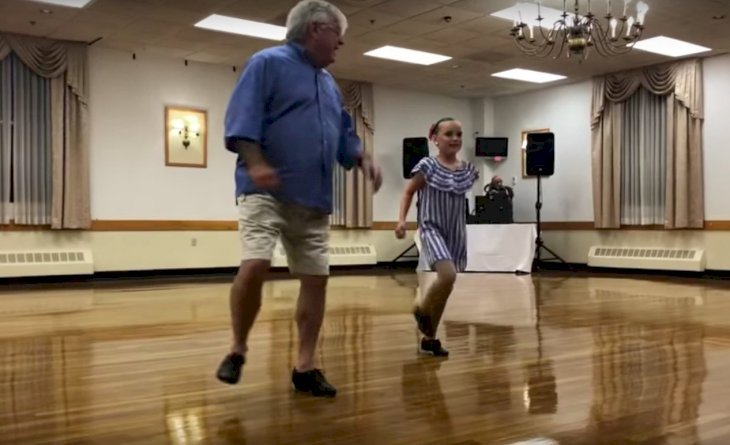 Source: Youtube/Jaime J
But Bill shouldn't have been. Dancing runs in the family's blood. He said of his grandmother:
"[She] was in vaudeville, probably burlesque, and my father danced, and I danced with him when I was four years old. So she's like the fifth generation down from my grandmother."
In the routine, Maeve did a cartwheel. Then Bill followed suit, stunning the audience.
"I decided to do a cartwheel again. I hadn't done them in a while. I used to do a bunch of other tricks, but that's the last trick I have left."
Maeve said:
"I was really surprised. I had no idea he could do one."
Source: YouTube/ Jaime J
The video racked up over 164,000 views on YouTube.
Back in 2016, another duo shared their love of dance across generations at a father-daughter wedding dance.
Mikayla and her dad Nate wowed their guests wby grooving to everything from pop, funk, jazz, rock, and more.
Source: YouTube/ BP Film & Photo
And in 2014, one country style dad partnered with his 12-year-old daughter Austynn to help her with the viral YouTube dance debut.
Her dad, Joshua Samarco, wore a full cowboy suit complete with a brown cowboy hat. His daughter meanwhile wore a black outfit with a plaid shirt around her waist.
In the clip, the duo goes through a series of twirls, spins and even a flip from young Austynn. Josh showed off his impressive "Carlton dance" moves at one point.
Source: YouTube/ Desiree Meloche
Towards the end, Austynn does an incredible split which her dad helps her up from.
Then the two finish up by showing off their twerking skills and wrapping it up with gun fingers as they stand back to back.
Please fill in your e-mail so we can share with you our top stories!