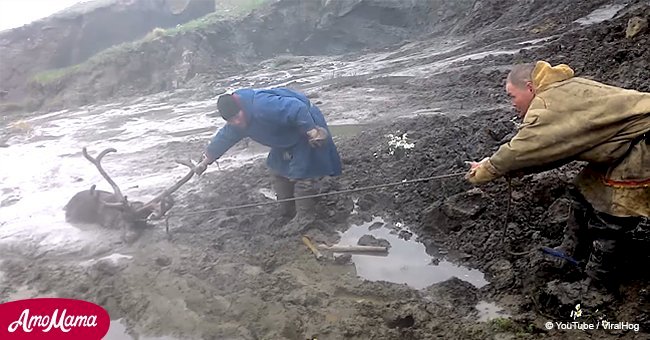 Men dive into the mud to save a helpless reindeer from drowning
On August 29, 2018, men walking along the Morda Yakha river spot a reindeer in distress, stuck in deep mud setting their plan in motion to save it.
A video was recorded by one of the men as the other set to work in saving the stuck reindeer. The poster said the following as a caption to the video:
"I was passing along the Morda Yakha river in the Bovanenkovo region when I saw an unhappy animal. We immediately brought an oar to avoid getting stuck in the mud, rope, tied it to the reindeer's horns and rescued the animal."
Source: YouTube/Viralhog
The first man approaches the reindeer holding an oar to avoid getting stuck and another man joins in to assist leaving for a short period to get rope from their truck to tie around the reindeer's antlers, the two men pull on the antlers and rope, tugging and struggling in the deep mud until all three are on solid ground.
Source: YouTube/Viralhog
Read more on our Twitter account @amomama_usa.
The man stands next to the reindeer while it shakes off some of the mud and he removes the rope around his antlers.
Source: YouTube/Viralhog
After the reindeer is safe and sound they back to the mud to retrieve their oars. All ends well as another deer received a timely rescue too.
Source: YouTube/Viralhog
A video shared on YouTube on December 26, 2017, shows a man helping a deer out of a tight spot when a pipe got stuck over his head. After many attempts, the deer is free.
Many ways can be used to achieve the same result, Aaron Garney posted a video on March 29,2016, demonstrating this. It shows his father in law and skilled excavator operator rescuing a deer from the mud.
The method of rescue made this unique. The deer got herself stuck in a deep mud pit and unable to get out when the father in law with help from his cell phone, keeping him in contact with the excavator operator.
Repeated scoops with the excavator later and the operator goes back once more to pick up the young deer, gently scooping up the exhausted deer and dropping her next to the road, the deer stands up looking around. Safe and sound.
Please fill in your e-mail so we can share with you our top stories!