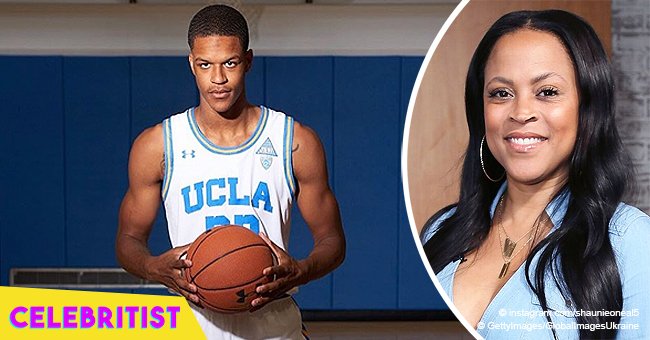 Shaunie O'Neal speaks out after news of son's upcoming heart surgery

Shareef O'Neal has just announced that he'll be taking a break from basketball to undergo a major heart surgery and his mother Shaunie O'Neal had a few things to say.
Following her son's announcement revealing a major heart surgery he's about to undergo, Shaunie O'Neal breaks her silence and opens up about the nature of her feelings as the mother of an ailing child.
SHAREEF'S ANNOUNCEMENT
Shareef himself opened up about his health issue through an Instagram post.
"Recently I found out I had a serious heart issue ... I am very blessed to be here living today, one of those moments on the court could've been my last breathe."
The UCLA freshman also revealed he intends to be back to playing basketball after this ordeal is over. He thanked God, his family, UCLA and his teammates for their support and he was very optimistic adding,
"this is just a small bump on the road and I gotta push through it..."
A FUNNY FEELING
TMZ Sports found out from Shareef that doctors only discovered his heart ailment while he was undergoing a routine checkup due to a funny feeling he was having during practices. He was first asked to wear a heart monitor with a button that he could press during times he didn't feel well. It was discovered weeks later through that process that he had a serious heart ailment. He didn't go into detail about his heart problem but said that it would require surgery soon. He was grateful though that the UCLA medical team caught it early.
LIFE GOES ON
Shareef also revealed he's discussed the matter with his parents and they agreed he was not going to withdraw from school. He intends to continue attending classes while recovering from his surgery. He also vowed to return to basketball in 2019 describing this setback as "just a bump in the road." In his Instagram post, he recognized the importance of his health but promised to be back.
"I am very down about not being able to do sport I love .. I really wanted this year I felt like I was at my best but this is just a minor setback.. my health is most important over everything .. like I said .. I WILL BE BACK.. thank you."
A MOTHER'S SENTIMENTS
Following his announcement of his surgery, Shareef's mother, Shaunie O'Neal released a statement on Instagram expressing her thanks for the outpour of support her son has received. She also described her feelings going through the emotions of watching her son ailing and how she draws strength from Shareef's courage.
"As a parent it's always tough to watch your child/children go through anything that's out of your control! Shareef's spirits and strength during this time has helped us all through the process. He's beyond strong, and understands that this setbackw will only be apart of his amazing testimony."
Like Shareef, she announced that her son will continue with his education and will be back in the basketball court next year.
Shaunie is hopeful that Shareef is in good hands as she ends her statement with the following message.
"We are a praying family that believes God is in total control! We have processed his condition, put it in God's hands, and now getting back to a sense of normalcy for our family. Please keep Shareef in your thoughts and prayers, and as a family we will keep you updated during this journey."
PLAYING FOR UCLA
O'Neal is a four-star power forward of the UCLA Bruins. He was originally committed to play for the Arizona Wildcats but de-committed himself in February after a wire-tap controversy involving the team's coach, Sean Miller. He currently ranks 33 among all players in the Class of 2018 and 9 among forwards.
LIKE FATHER, LIKE SON?
Being his father's son, Shareef is aware of the expectations circling him. But he isn't letting that get in the way of his journey in basketball. If anything, it helps motivate him to prove others wrong. He told Slam,
"I don't think pressure exists anymore. I used to think it was when I was growing up, and I used to doubt myself a lot when I had a bad game cause of what people would say, but it doesn't exist to me anymore. I know what I can do and I've proven myself throughout my high school career. So I'm just looking to keep proving people wrong."
It also helps that his father is supportive and thinks highly of him. Shaquille even told him Shareef was a far better player than him when he was his son's age. No doubt Shareef is getting inspiration from his father while crafting his own route in the sport they both love.
Please fill in your e-mail so we can share with you our top stories!