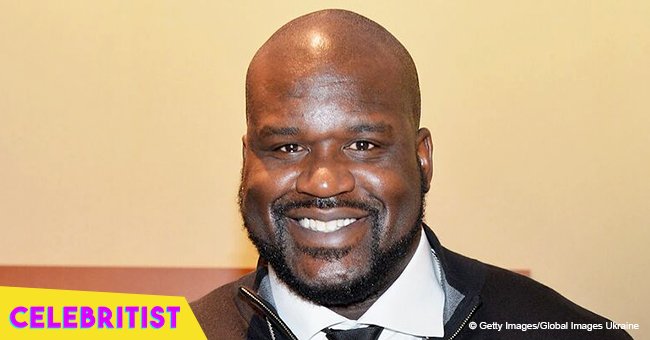 Shaquille O'Neal's son reveals huge expectations from people because of his dad's success
The young athlete reveals how he deals with the pressure of carrying his father's last name while carving his own niche in basketball.
Shareef O'Neal, son of NBA legend Shaquille O'Neal, is heading off to college in UCLA where he'll be playing for the Bruins. But now that he's poised to make a name for himself, the 18-year-old admits, he refuses to be pressured by people's expectations as his father's son.
Shareef recently told Slam that he's learned to be immune to comparisons made between him and his dad, choosing to focus on who he is and what he can do. But while he's not letting others' expectations get to him, he confesses it motivates him.
"Probably everyone who's heard of me, they don't think I'm going to be as good as my dad. Some people are kind of believing in me. My dad, he says I was better than him when he was my age, so that kind of boosted me up a little bit."
His drive to be good, according to Shareef isn't due to the fact that he thinks he's inferior to his father, but is fueled by his desire to prove people wrong.
"I don't think pressure exists anymore. I used to think it was when I was growing up, and I used to doubt myself a lot when I had a bad game cause of what people would say, but it doesn't exist to me anymore. I know what I can do and I've proven myself throughout my high school career. So I'm just looking to keep proving people wrong."
The young athlete has managed to impress so far after a successful run with Santa Monica's Crossroads School's basketball team during his high school years. The team won a California State Division II title with Shareef earning himself the John R. Wooden Award for player of the year.
Now that he believes he has what it takes to go further in basketball, he also knows his last name comes with a lot of expectations.
"Just because of the name I have, the last name I carry, I feel like people are expecting me to do a lot of things. If I don't live up to those expectations, then I'm hyped up and overrated."
Luckily for Shareef, he doesn't have to worry about his dad's own expectations. In fact, he revealed his father wouldn't mind if he strayed from a future in basketball and would gladly support him in whatever endeavor he chooses.
"I'm not pressured to play basketball. If I wanted to put down the ball today, hang up all my shoes, he wouldn't be mad at all. If he'd ask me what else I'd want to do, I'd tell him and he'd be OK with it."
However, Shareef seems destined to be a basketball star, as his Crossroads coach Anthony Davis confirms.
"Shareef is amazing as a kid—the most humble kid I've ever probably run across. I want to probably credit that to his family. His mom, his dad, you know they're always here, they're always in his corner. You can just tell they raised a great young man. He's always looking to get better, he's always asking questions, he's always on him teammates and being that leader."
UCLA couldn't be luckier to have Shareef on its side, according to Davis who believes the university "is getting a unicorn, a very special kid." He adds,
"He can do everything."
Please fill in your e-mail so we can share with you our top stories!