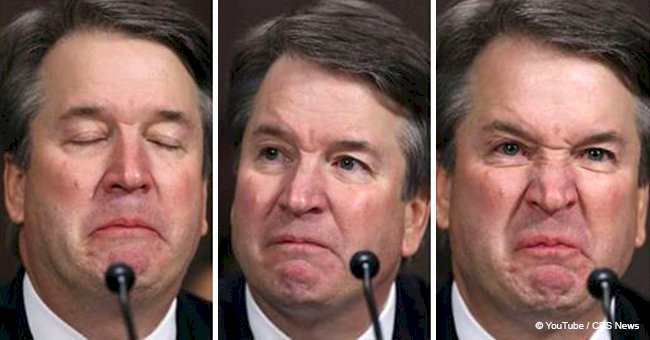 Internet reacts to Brett Kavanaugh crying during hearings

Brett Kavanaugh choked back tears while giving his testimony in front of the Senate Judiciary Committee. The internet was not having it and reacted with strong words on social media.
Kavanaugh gave a lengthy opening statement at his hearing last Thursday regarding allegations of sexual assault. But he was barely able to get through it all.
His voice fluctuated between high and low pitch. And before long, Kavanaugh lost his composure.
Follow us on Twitter for more @amomama_usa.
The stark contrast between this and Dr. Christine Blasey Ford's testimony earlier was enough for the internet to go crazy.
They made the comparison between women's expected behavior as professionals, compared to the leeway that men are allowed in the same situations.
Ford, Kavanaugh's accuser, was forced to recall explicit details of a night she was assaulted. She kept her cool throughout her testimony.
People called out the usual obvious double standard because women who portray similar behavior to Kavanaugh tend to be referred to as emotional, irrational, hysterical, and the like.
Instead, Ford's demeanor was collected, and her voice well-measured and calm. Plus, she was obliged to relate her encounter over a period of hours.
Throughout that time, she remained strong. Because she is strong. But also because women are simply not given the luxury of breaking down in public despite such circumstances.
On the other hand, Kavanaugh's emotions were worn on his sleeve during the hearing. And people were calling it out.
The display from Kavanaugh was compared to attacks on women as a whole. It was also compared to Hilary Clinton's bid for president a few years ago.
Back then, people relayed comments like how "women are too emotional to be President."
Meanwhile, Kavanaugh exclaimed shrilly about his calendars, called out an old high school yearbook editor as being a creep, and went after Democrats.
In light of his bid to be a nonpartisan judge and a neutral arbiter on the Supreme Court, his speech was jarring to many.
While Kavanaugh called the charge "a national disgrace," people are indirectly saying that the title belongs to him.
The incident has led to the firing of a Fox News contributor named Kevin Jackson, for tweets that seemed to attack Ford and put the blame on her.
In fact, the news network is widely divided, with hosts and contributors having a range of takes on Kavanaugh's display and the entire incident in general.

Source: YouTube/ CBS News
On Saturday Night Live two days later, Kavanaugh was used as a sacrificial lamb in the opening skit for the show's 44th season.
Matt Damon portrayed the accused judge while Cecily Strong was Diane Feinstein questioning him.
She asked him if he had the "temperament to be a Supreme Court Justice."
Making fun of Kavanaugh's testimony, Damon responded hysterically saying "I went to Yale! ... I lifted weights!"
Source: YouTube/ CBS News
When asked if he was a "frequent drinker" in high school, Damon replied loudly, "I like beer!"
Please fill in your e-mail so we can share with you our top stories!