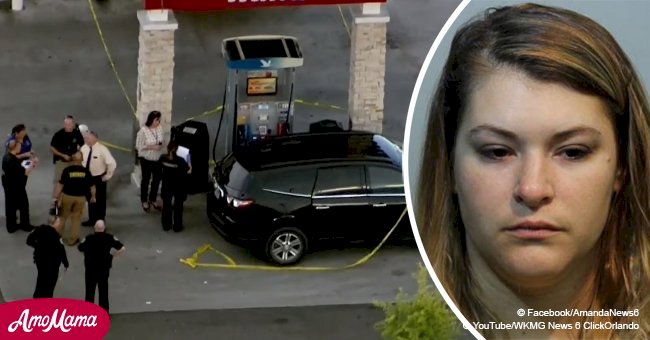 Mom going home after work looks back and realizes her baby was trapped in the car all day
A mother named Kailyn Pollard is facing charges of manslaughter after forgetting her 1-year-old daughter, now dead, inside her car for almost eight hours.
The 29-year-old was arrested on Friday, September 28, 2018, by Seminole County police officers that were investigating the case.
As reported by ABC News, Pollard made her first court appearance on Saturday after claiming that she forgot to drop her child at daycare.
Follow us on our Twitter account @amomama_usa to learn more.
EIGHT HOURS LATER
According to the Seminole County Sherif's Department, Pollard's daughter, whose name is yet to be revealed, was found at Wawa gas station in Sanford, Florida.
Apparently, Pollard left home early in the morning and forgot to drive by the daycare, leaving her daughter strapped to her little chair in the back seat.
HELP CAME TOO LATE
The baby stood inside the car in 94-degree weather and was already dead when the proper authorities arrived at the scene around 4:40 p.m.
Pollard only realized that she forgot her daughter in the vehicle when she went to pick up dinner at Olive Garden and stopped for some gas.
RELEASED BUT OFF THE HOOK
The 29-year-old was released from jail on $20,000 bond and is reportedly expected to appear back in court on October 23 to face charges of negligent manslaughter.
It seems difficult to understand how a parent can forget their infant child in the car and just go on with their lives but it actually happens quite frequently.
ALMOST THE SAME STORY
Back in April, in North Charleston, South Carolina, a baby passed away in a very similar situation. The father, who hasn't been named, forgot to take the 10-month-old to daycare, leaving him in the car while at work.
A baby boy from Maine was luckier since he was found unattended in a shopping cart at a department store. After checking the surveillance footage, police officers realized that the baby had been 'forgotten' by two males and two females.
Taylor Perdue, the baby's mother, was charged with child endangerment, even though she continued to claim that she left her son in the shopping cart by accident.
Please fill in your e-mail so we can share with you our top stories!