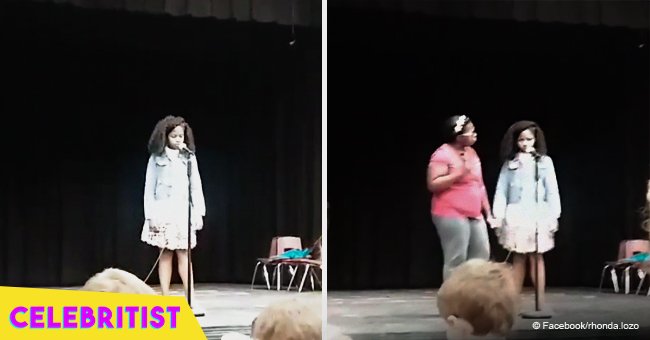 Mom leaped into action when her daughter got stage fright during talent show in viral video
Makayla Ferrell was only 10 years old when she went onstage to sing Andra Day's anthem "Rise Up" at her school talent show. When her voice faded, her mother knew she had to help.
Shaye Washington was sitting a couple of meters away from the stage enjoying her daughter's presentation when the girl stopped singing. She was so nervous that she forgot the lyrics of the song.
Her mother realized that Makayla was about to have a breakdown in front of several people of her school and, since the last thing she wanted was her to feel ashamed, she stepped in and "rescued" her daughter.
In the video that another mother uploaded to Facebook, and quickly became viral, Shayne's voice could be heard from somewhere in the small theater.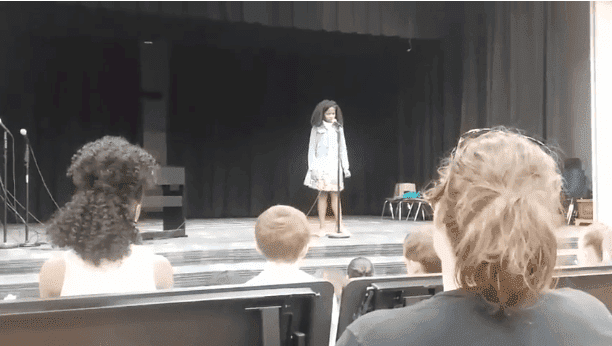 Source: Facebook/Rhonda Whitney
SAVING THE PRESENTATION
She was singing the lyrics so the girl could remember them and keep performing. While getting onstage, she said: "C'mon baby, you got it." The rest of the parents couldn't help but cheer and applaud them.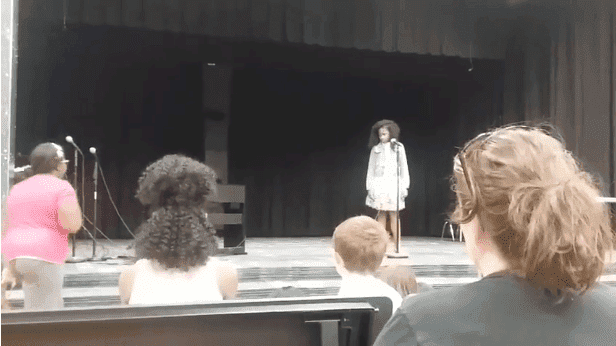 Source: Facebook/Rhonda Whitney
What began as a solo ended up in a beautiful duet that won over several people's hearts. So far, it has more than 9 million views, 17,000 comments, and has been shared more than 102,000 times.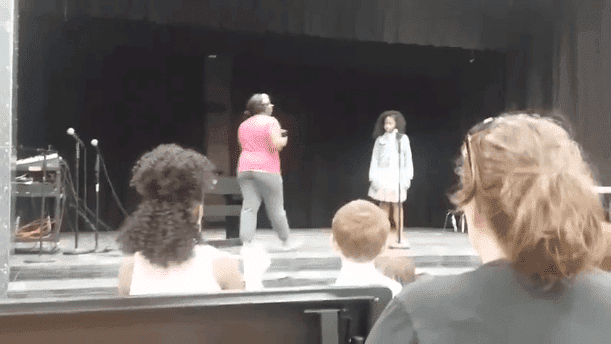 Source: Facebook/Rhonda Whitney
PEOPLE'S REACTION
As soon as that video hit the internet, people started sharing their thoughts. One of them was Michelle Taylor who pointed out that a mother could do anything for their child.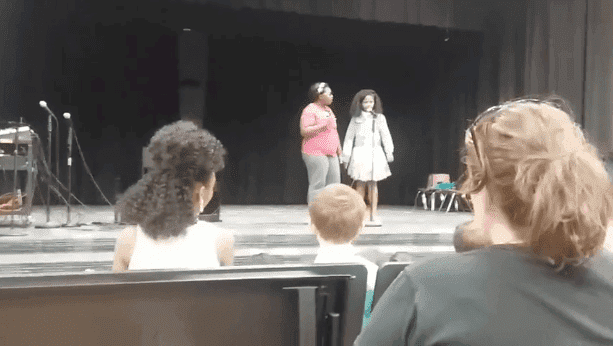 Source: Facebook/Rhonda Whitney
User Rodney Bishop chimed in and said that the clip was proof that a child could do everything if their parents give them the support and comprehension they need.
ANOTHER VIRAL PERFORMANCE
Makayla is not the only child who became an Internet sensation as a little boy singing Bruno Mars' hit song "Count on Me" to a fellow student who was a victim of bullying went viral.
In the three-minute footage uploaded to Ruby Jimenez's Facebook page, a young boy from El Paso, Texas was standing by a vehicle wearing a dark ensemble a couple of feet away from his friend who put on black shorts and a pink shirt.
When the boy learned that his friend was having a tough day, he knew that he had to do something, so he serenaded her the song previously mentioned which lyrics fit perfectly in the girl's situation.
Please fill in your e-mail so we can share with you our top stories!