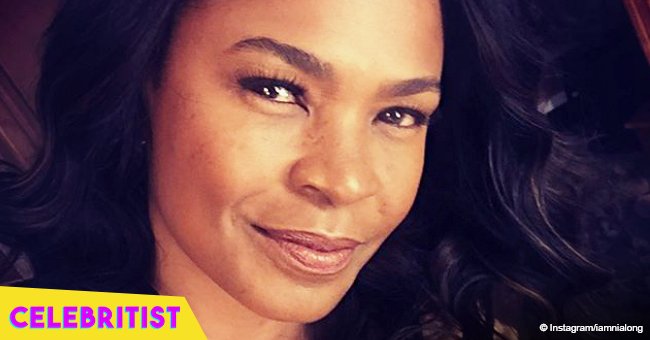 Nia Long melts hearts with photos of her 2 sons who look just like mom
Nia Long recently took to Instagram to gush about her two adorable sons, and according to fans, they are pretty much her twins. Like her mother, Nia was also a single mom, until she met her now long-time partner.
Massai, 17 and Kez, 6, didn't hesitate on making their best expressions to the camera when posing next to their actress mom, Nia Long.
The trio made a funny family portrait while donning matching caps and t-shirts, as Kez did a trick with his tongue, Massai smiled brightly, and Nia smirked to the lens while looking joyful of being with her kids.
The "Boyz N' the Hood" star took her caption to gush about her two handsome boys, writing:
"Thank you Father God for these two humans. My moral compass, the pain in my ass, my motivation, my truth, my mirror...my greatest creations. My definition of love."
Fans took over her comment section to praise Nia's motherhood skills and to share their thoughts on the good-looking brothers.
"I just think of you as a pillar in motherhood, God Bless," wrote one user. While another added, "Awww beautiful children and beautiful Queen, they look just like you," and a third one said, "BEAUTIFUL the oldest one is your twin."
Nia, like her beautiful mother Talita Long, went through some harsh times as a single mom after the birth of Massai, whom she shares with ex-boyfriend Massai Dorsey. The 47-year-old revealed to People a few years ago that while Massai's father was still involved in raising her son, the daily decision-making process was often on her shoulders.
"Honestly, it's organization and planning…and keeping a clean house! Patience is super important as a single mother. You do have to be a little more patient because all of the responsibility is on you…ask for help!"
Nia met former NBA star Ime Udoka in 2010, and the next year they welcomed their son Kez.
They got engaged in 2015, but the marriage still doesn't have a date set. With Udoka in her life, Nia had a bit of the weight removed, now that the boys have a paternal figure on their lives.
Long's mother, Talita, was also excited about the engagement and her daughter having someone else to lean on to. However, the 70-year-old is still continually checking on her grandsons and spending quality time with them.
Last July, the entire family flew over to Disneyland to celebrate Talita's birthday, and as seen on Nia's pictures, the whole family and friends had an incredible adventure at the happiest place on earth.
Please fill in your e-mail so we can share with you our top stories!