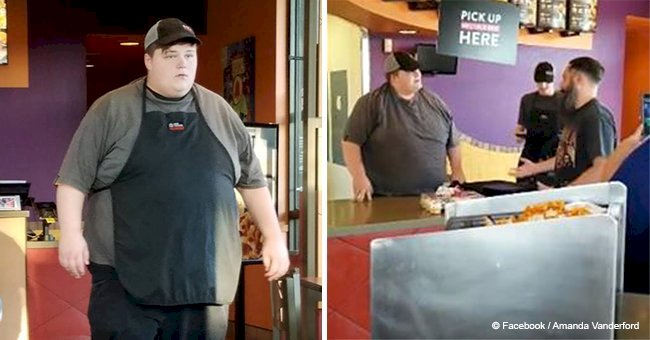 Cafe employee who selflessly fed a homeless man is surprised by the reaction of other customers
A Taco Bell employee helped a homeless man that wandered into the food chain restaurant and his actions went viral.
Amanda Vanderford, a client that happened to be at the restaurant at the time, saw how Brandon Stephenson, the employee, paid for the homeless man's meal.
She couldn't help but share the good deed through her Facebook account, where it has been viewed and shared by thousands of people.
Follow us on our Twitter account @amomama_usa to learn more and scroll down to watch the video below.
Kindness goes a long way and Stephenson's actions are proof of it. According to Vanderford, the homeless man, who is yet to be named, stepped out of the bathroom looking defeated.
CLEAR SIGNS OF NEED
He was carrying three bags, one of them with a comforter which he used to sleep in. While some people would throw him out, Stephenson had a different approach.
Vanderford watched him guide the man towards a booth before going behind the counter and returning with a hot and nice meal, something the man probably hadn't had in a long time.
GOING ABOVE AND BEYOND
The woman was moved by the Taco Bell worker's actions and was even more surprised when he taught the homeless man how to apply for a job online.
After the word got out, several people have reportedly approached Stephenson and rewarded him for his action, offering him cupcakes, a stay at a hotel for free and even $1145 in cash to fix up his truck.
THE MCDONALD'S INCIDENT
As previously mentioned, not every restaurant employee would follow Stephenson's example. Recently, a homeless man had the police called on him after he was invited by a stranger, named Yossi Gallo, to eat at McDonald's.
Unfortunately, as soon as Gallo paid for the food, the woman behind the counter said that she wouldn't be serving him food because of the homeless man.
A police officer was sent to the restaurant and asked the man to leave. It was later revealed by Joe Pellicci Jr., the owner of the establishment, that the man had a history of disruptive behavior in the restaurant.
Please fill in your e-mail so we can share with you our top stories!