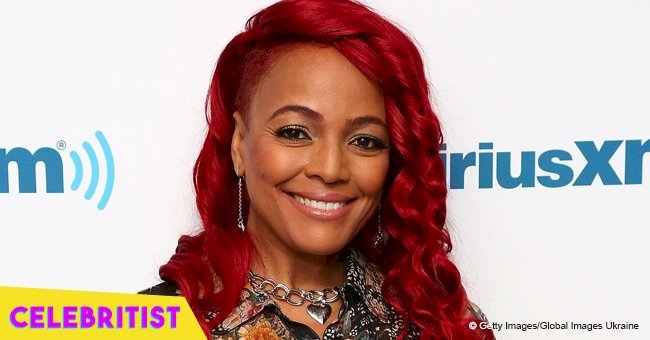 Kim Fields' husband melts hearts with sweet photo of son sleeping on his dad's shoulders

Kim Field's husband, Christopher Morgan, posts a sweet father-son moment captured. He carried his son on his shoulders as he fell asleep from the top view.
Christopher Morgan, Kim Field's husband, recently posted the cutest photo of his son sleeping on his shoulders while leaning on his head. The candid picture of the father and son showed both of them wearing red, Christopher in a black cap, while his son leaned on his shoulder to sleep. The post melted the hearts of his followers as he captioned their sweet moment with:
"Fatherhood is about support….. just be there for them. #fatherhood #knockedout #forevermybaby #fleshofmyflesh."
Christopher is Kim's second life partner, after her previous marriage with Jonathon Freeman did not work out. They tied the knot in 2007, following her divorce in 2001, and had two lovely children. Their first son is Sebastian, born before their marriage, and their second son is Quincy, who was born in 2013. The couple's relationship has been strong over the years, despite some hurdles they had to face, including allegations of Christopher's gender preference.
Kenya Michaels, one of Kim's co-star in The Real Housewives of Atlanta was quick to speculate that Christopher was interested in the same sex. It caused a feud between the two girls during the show, but Christopher spoke up about the issue soon after. In an interview with E! News, Christopher was asked what his response to Kenya's allegations was. During an interview with E! Online, he said:
"It's interesting. When someone spreads lies about you, you can either go at them in a defensive manner and be seen as defensive, or you can just let a lie be a lie. And she kind of put me in the middle with that situation because how I would handle that situation without the entire world watching is different than I would when someone spreads a lie about you in front of the nation and world. So, I felt immediately it was going to be important for me, at some time, to set the record straight that she had fabricated the entire conversation."
According to Christopher, he and Kim were not together during the "Living Single" days, which was when Kenya claims he first learned of the rumors. At that time, Kim was still married to someone else as it ran from 1993 to 1998.
Christopher handled the situation well, without losing his cool. The rumors that the couple faced are only small things that challenge a strong relationship like theirs. More so, Christopher has proved everyone wrong. He simply minded his own business and here he is proving to everyone know what a great father he can be.
Please fill in your e-mail so we can share with you our top stories!