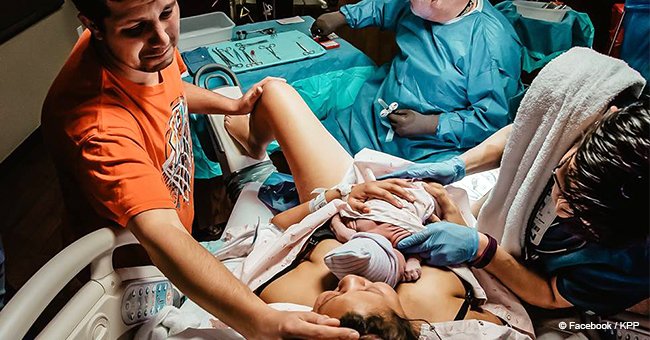 New father shares the real reason he cried at his baby's birth
Experiencing childbirth is overwhelming for any parent and witnessing one's child for the first time is sure to break down many into tears. Surprisingly, this was not why this father cried during his wife's delivery.
According to CaféMom, when Wesley Call shed tears during his wife, Samantha's, childbirth, it was not out of the joy of seeing his child for the first time.
The pregnancy photographer on duty, Kirstie Perez, who is also Samantha's sister, later told CafeMom that sister had a difficult pregnancy. She suffered from severe Hyperemesis Gravidarum and Preeclampsia.
There were no prior indications that she would have these conditions during the pregnancy but eventually, he condition became life-threatening.
Follow us on Twitter to learn more.
Therefore, Wesley had to helplessly witness his wife suffer throughout the 10-months-long pregnancy as they waiting for their baby to be born.
"Throughout her pregnancy I watched both her and her husband go through hell for their first child," Perez told the online source. She further explained that they were all "powerless" to help Samantha as she endured more than just 'morning sickness.'
Throughout the pregnancy, the conditions took a massive toll on Samantha's body leading her to be hospitalized four times for dehydration and had to be induced for the safety of her and her child.
Sharing the photographs on her official Facebook page, Perez opened up about the difficulty that her sister went through and how Wesley supported her throughout.
She wrote that Wesley "helplessly watched his wife vomit profusely for 285+ days" and witnessed her lose 30 pounds in pregnancy due to Hyperemesis Gravidarum and Preeclampsia.
During the childbirth, Perez captured Wesley crying after Samantha finally gave birth to their child. But when she later asked Wesley about it, he told her that it was not the reason why he was crying.
Perez explained what Wesley revealed to her then. He told her, "This is the first time I have seen her smile in ten months."
There is little wonder why Samantha was in such a state for the 10 months long pregnancy. American Pregnancy informed that Hyperemesis Gravidarum is a condition that causes severe nausea, vomiting, weight loss, and electrolyte disturbance.
Mayo Clinic explained on their official website that preeclampsia is another condition that causes high blood pressure and signs of damage to other body organs, mostly liver, and kidneys. If not treated on time, the condition can be fatal.
Hyperemesis Gravidarum is a condition that can develop in any woman due to hormonal changes and imbalance during pregnancy.
Even Duchess of Cambridge, Kate Middleton, has suffered through this terrible condition during all of her three pregnancies.
Please fill in your e-mail so we can share with you our top stories!