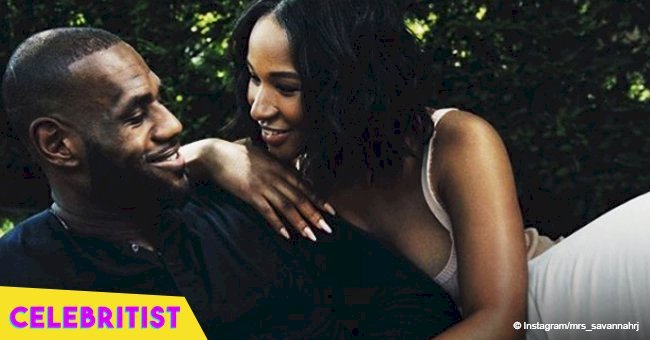 LeBron James' wife shares adorable photos of 2 sons covered in sand at the beach
In honor of National Son Day, Savannah James shared lovely photos of her two sons, LeBron Jr. and Bryce Maximus, getting mischievous at the beach.
A few days ago, Savannah celebrated her only daughter and last child, Zhuri, in a post for National Daughter Day. The mom-of-three shared cute footage of her daughter rocking gold-tinted sunglasses and a top bun. Now, it's the turn of her boys.
LeBron Jr also called Bronny, and Bryce seemed to be having all the fun as they posed for photos beneath a sand mound. 14-year-old Bronny, who has been following steadily in his father's footsteps, seemed to be having the most fun; the teenager grinned happily at the camera.
Savannah's hilarious caption read:
"These 2 stay on my nerves but I wouldn't have it any other way" #NationalSonDay #BryceMaximus #BronnyJamesJr"
Fans of LeBron James have been following up on his oldest son's progress since it became apparent that Bronny is on his way to basketball stardom.
The "Blue Chips" junior player has been making headlines for his talent and skill, and in June, surprised even his father, one of the greatest basketball players of all time.
The NBA star was at the "Balling on the Beach" tournament in Southwest Miami Senior High School to watch his son play, when Bronny attempted to dunk.
"As the game heated up, his son jumped into action, grabbing the ball and attempting to dunk on all his competitors."
An impressed LeBron took to Instagram to share the proud moment, writing:
"Man what!?!?! First time he ever tried that in a game today! And it was someone kinda trailing him behind too! Surprised not only me but everyone in the gym. Man o Man."
Despite his busy schedule as an athlete TV personality, footwear designer, and philanthropist, the supportive dad makes time to attend his son's games. LeBron was spotted again in July as he watched Bronny play with his grassroots team, the North Coast Blue Chips.
LeBron only has one regret: naming his son after himself. In a teaser for his HBO talk show, "The Shop," Jon Stewart asked the L.A Lakers Small-Forward how he intended to protect his sons from the pressure to live up to his achievements, and a sober LeBron replied:
"I still regret giving my 14-year-old my name. When I was younger, obviously, I didn't have a dad. My whole thing was, whenever I have a kid, not only is he gonna be a junior, but I'm gonna do everything this man didn't do."
Meanwhile, back in August, it was announced that Bronny would be attending the prestigious Crossroads High School in Santa Monica.
Notable alumni of the school include rising basketball star and UCLA player, Shareef O'Neal, the son of basketball legend, Shaquille O'Neal.
Please fill in your e-mail so we can share with you our top stories!