'DWTS' contestants present a wonderful cha-cha despite difficulties during training week
Danelle Umstead received an IV the day before she performed with her partner Artem Chigvintsev on "Dancing With The Stars." Plus, both dancers had been sick the entire week before. 
Somehow, the two contestants managed to overcome their difficulties and perform a delightful cha-cha to Taylor Swift's "Welcome To New York." The video of the performance is found below.
Umstead began by doing a playful introduction involving the use of a cane. The Paralympian, who is legally blind, then tossed the cane to Chigvintsev. 
Follow us on Twitter for more @amomama_usa.
Welcome to New York! @DanelleUmstead and @artemchigvintse cha cha to @taylorswift13's ode to the Big Apple! #DWTS

— Dancing with the Stars #DWTS (@DancingABC) October 2, 2018
He held it for a second before tossing it on the floor as well and taking the hand of Umstead. From there, the two danced away confidently.
Umstead, a Paralympic alpine skier, wore a turquoise green glittering dress that reached her mid-thighs. Chigvintsev wore a suit of a darker matching color. 
Afterward, Umstead explained to host Tom Bergeron that she and her partner were sick the entire week before and that she had gotten "fluids put in, intravenously" on Sunday. 
Artem is doing so good with Danelle, everything they're doing is super impressive #DWTS

— lanie (@onceuponaposey) October 2, 2018
"It's been a tough week," the 46-year-old said.
Chigvintsev had it a bit easier. He joked with the host that he tried to get some IV for himself but the doctors would not allow it. 
Judge Carrie Ann Inaba hoped that Umstead "feel better soon." And then they received their critique and judging. 
The judges were unanimous in their opinion that Umstead started off on the wrong foot. However, her error-free performance was commended. 
She received a score of six from Inaba, Len Goodman, and Bruno Tonioli, adding up to 18 out of 30 points. 
Great song. Great dance. So inspirational! Danelle pushes the boundaries of what we believe is possible. Awesome. #DWTS pic.twitter.com/wY0h7DMQy9

— Ann Marie Pincivero (@ampincivero) October 2, 2018
Umstead is a victim to retinitis pigmentosa, a rare disorder that causes vision impairment. She has no central vision and her peripheral vision is slowly disappearing. 
The skier has still gone on to win three Paralympic bronze medals. But since her first viewing of the show in 2007, she had a goal of being the first visually impaired star on DWTS.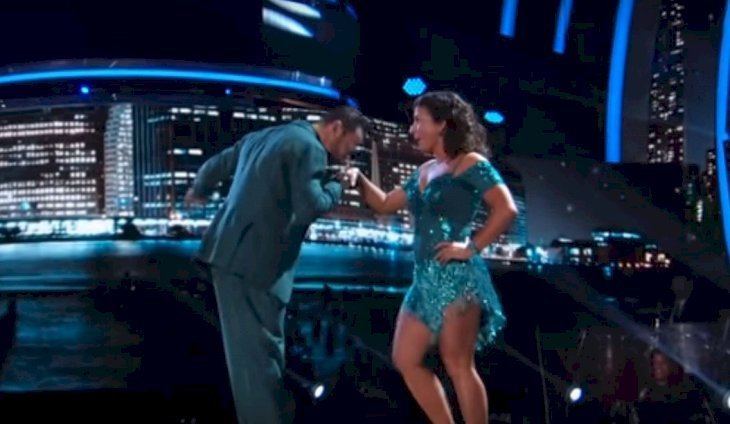 After getting into it, she told ESPN: 
"It's been a lot harder than I anticipated. Being visually impaired and not ever seeing dance clearly, I didn't realize there's so much to it, but I love learning and I love challenging myself. It's been such an incredible journey, and everybody -- from the pros to the staff -- everybody at DWTS is so amazing and so loving. It is like a big, happy family. It's just an incredible experience."
For viewers, last night's performances made for an incredible viewing experience as well. 
The level of dance was deemed unprecedented for being at only week two. And although two couples got a sixes only score, neither of them was downright bad. 
Source: YouTube/ Dancing With The Stars
Tinashe and DeMarcus Ware excelled once more, but this time they were met with about four other couples that reached the same bar. 
Judge Len Goodman, known for his strong critic, was even at a loss for complaints when it came to the dancers' performances
Even Joe Amabile, a.k.a., "Grocery Store Joe" did a good job after his disastrous performance last week. 
Source: YouTube/ Dancing With The Stars
On the challenge of her eyesight, Umstead told Parade.com that "everything is being taught by my partner Artem through words and feeling."
She described Chigventsev as an "amazing" and "patient" teacher and said that the two "were meant to dance together." 
Source: YouTube/ Dancing With The Stars
Umstead also spoke about her second helper who will contribute to her advancement through the DWTS show.
Aziza, Umstead's guide dog, will be her constant assistant throughout her training. 
She told PEOPLE that the service dog is like her "comfort place" who gives her the "confidence to get around everywhere."
Additionally, Aziza herself enjoys the show's perks, getting excited when she gets to wear a tutu. Her Natural Balance treats are an indispensable encouragement to the process though.