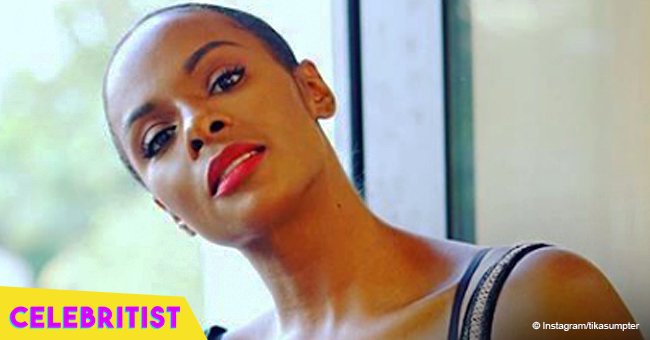 Tika Sumpter flaunts slender legs in metallic lamé mini dress and high heels
Tika Sumpter looks gorgeous in a set of pics posted to her Instagram account as part of her press rounds to promote her newest film, "The Old Man and the Gun." Sumpter recently opened up about her love for acting and balancing her career with motherhood.
The "Southside With You" star has a full schedule for the rest of the year and into 2019, but she's been more active on social media than ever these days. Sumpter went from posting a pic once in a while to sharing daily pics with fans on Instagram, whether is personal photos or just some inspirational and artsy shots.
Two of her recent pics show Tika looking gorgeous and commanding attention in a long-sleeved metallic lamé mini dress that has a unique iridescent effect, and a pair of black high heels that added some length to her toned legs. Her hair was parted on the side and tied back in a low ponytail, while her lips were enhanced with a bold pink.
"My plans are so much bigger than myself. They include you," she captioned the picture.
Fans immediately took over her comment section to share their thoughts on the picture. One user wrote "Now this some fine chocolate right here," another added, "Tika with her heels on I love this beautiful picture," and a third one referenced Tika's newfound love for Instagram:
"So you just gonna continue to bless us daily with new pics? I don't mind at all... shine babe, shine! You look absolutely gorgeous."
THE HARSH BEGINNINGS
While Tika's career is soaring high these days, it wasn't always like that for the 38-year-old. Speaking to WWD, she revealed that when she was starting in Hollywood, modeling and doing commercials, she was up for any challenge, "you'll put on a bunny suit if you have to. You're just like, 'Give me a job, anybody! You want me to sell Kit Kats; I will do it!'" she said.
Despite the hard times, Tika was decided to make it into the industry, and her passion for acting was the fuel that kept her running in the right direction. She said:
"You have to really love it. I knew that I did because I was making no money and I still wanted to get up and go. I had to do an overnight at work [at a movie theater], work at a hotel and then get up and go on auditions."
"But it made me want to be in this industry even more. When you taste it, you can't just have it one time."
MOTHERHOOD AND ACTING
Tika is now a mother of a 2-year-old girl, Ella Loren, who she shares with fiancé Nicholas James. Balancing her career and motherhood hasn't been easy, but it has taught Sumpter a lot about herself. She revealed that:
"When I had Ella, I was in this weird position of, 'OK, are people going to accept me, after I become a mom? Are they still going to love me?' What I've learned is Ella has made me want more for myself — take care of me first and then make sure she's OK."
Sumpter is starring in the upcoming film "Nobody's Fool" alongside Tiffany Haddish and Whoopi Goldberg, and she's also shooting for the live action of "Sonic the Hedgehog," which is set to be released next year.
While it may appear like Tika is demanding with her roles, the actress confessed that she only has one requirement when it comes to acting, and that is to make an impact in other people's lives.
"Give me a job; I just want to act and somehow affect other people's lives,' that would be fine with me. I don't need all the glory. I'm just a hard worker who loves my craft," she concluded.
Please fill in your e-mail so we can share with you our top stories!