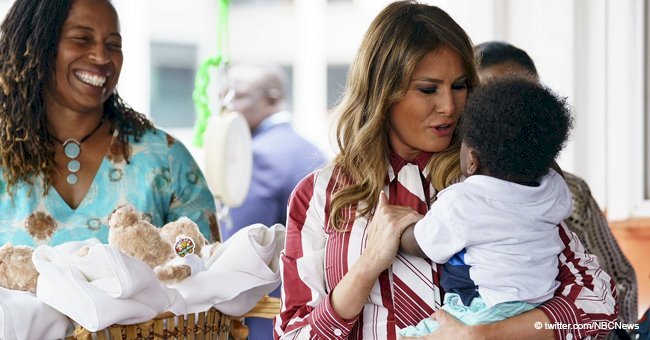 First lady Melania Trump visits a baby clinic after receiving a warm welcome in Ghana
On Tuesday, US First Lady Melania Trump arrived in Accra, Ghana, for her solo visit to the African continent. She landed via a private military plane after more than a 12-hour flight from Washington.
There she met up with the First Lady of Ghana. She also visited a baby clinic where she met a child she couldn't help but cuddle.
Melania Trump, 48, kept her look simple for her visit to Ghana. She landed at Kotoka International Airport in the Ghanian capital of Accra, wearing a burgundy-and-white-striped custom Celine shirt dress.
The dress is thought to be worth around $2,000, and she wore a pair of $625 white heels from Manolo Blahnik. At the airport, she was welcomed by Ghana's First Lady Rebecca Akufo-Addo.
For more on this story go to our Twitter account @amomama_usa. Trump was then presented with a beautiful bouquet of flowers in a colorful woven basket by a young girl in traditional dress.
The US First Lady bent down to give the little girl a warm hug as a thank you. She also got the chance to greet and meet several other Ghanaian officials.
Akufo-Addo and Trump walked past a group of smiling school children who were all waving American and Ghanaian flags. The US First Lady was then treated to some traditional dancing and she couldn't stop smiling.
From there it was straight to the Greater Accra Regional Hospital. There Trump watched babies being weighed as part of a local program funded by USAID.
The program aims to improve nutrition in young children. The babies at the hospital are placed in sacks that are then hung from a hook attached to a scale.
She also watched a nurse demonstrate how vitamins are administered to babies by mouth and she toured the neonatal intensive care unit. There the mother of one was captivated by an adorable 6-month-old child.
Pictures were taken where the First Lady was seen cuddling and posing with the baby boy. Trump gave mothers at the hospital gifts of teddy bears nestled in white baby blankets.
They carried the logo of Trump's initiative, "Be Best." Her visit to Africa is also aimed to promote her initiative which focuses on opioid abuse and online behavior.
Please fill in your e-mail so we can share with you our top stories!