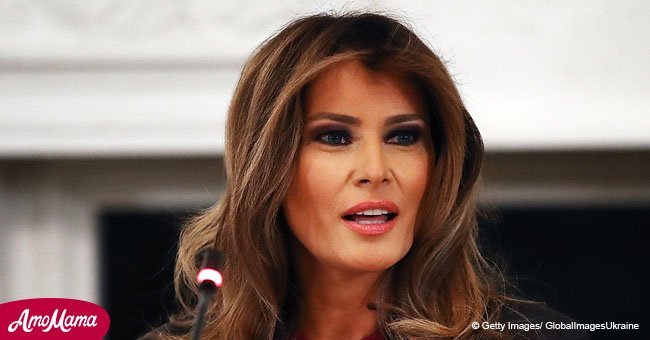 Melania Trump dazzles in a pink coat and yellow heels at the 'Prescribed to Death' memorial
She kept her fashion statement subtle while appearing for a great cause.
America's first lady has dedicated herself to one cause mainly – the opioid crisis and its eradication. She has shared her message on this issue on quite a few occasions in the past.
Her most recent initiative towards the cause was to visit the 'Prescribed To Death' Memorial, which featured the stories of several people who were victims of the prescription crisis of opioids.
As published in an article by Breitbart, Melania Trump made a visit to the memorial earlier this week. Known for her flair for fashion, trendwatchers were fascinated by her choice of outfit for the occasion.
Trump sported a thick light-pink coat, featuring full sleeves and a self-colored belt around the hips, which was left open.
Under the coat, she wore a crisply fitting dress in green and yellow, adding to the series of spring and summer themed color combinations she has been sporting this year.
She combined the outfit with chic suede shoes that matched her dress, and high pencil heels that she walked in comfortably.
The First Lady kept her makeup and accessories simple and looked intrigued as she took a tour of the memorial.
She was photographed standing in front of a black-and-white mosaic wall, reaching out to touch the wall while being lost in thought.
She was also seen speaking to the members working at the memorial, and listening to the stories that were being shared about the opioid crisis.
Of all the work that Mrs. Trump has chosen to undertake, visiting places and organizations that help communities deal with the aftermath of the health crisis has taken the first spot.
Trump's spokesperson highlighted that she couldn't wait to make the visit to the historic site as soon as the announcement of the visit was made.
An online post shared by the First Lady was captioned stating that the tour of the site had been a deeply moving experience and a valuable collaboration of the National Park Service, US Interior, and the White House.
Please fill in your e-mail so we can share with you our top stories!