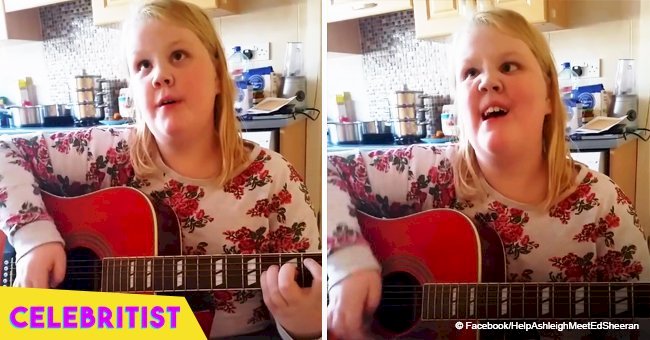 This partially blind autistic girl touches hearts of millions with her incredible singing voice
Ashleigh Fagan can only see partially and is autistic, but the shy teenager is not letting any of that stand in her way. Ashleigh has managed to sing her way into the hearts of millions across the world, and she's not planning to stop anytime soon.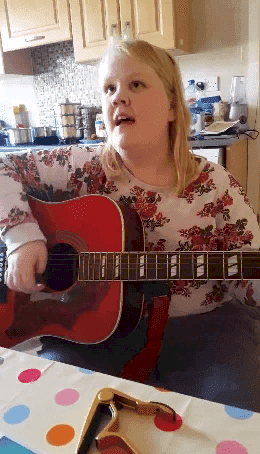 Facebook/Help Ashleigh Meet Ed Sheeran
Ashleigh was faced with an autism diagnosis at the age of 12, but never let the news or her developmental delays get in the way of her passion. Her mom, Liz, recalled how Ashleigh had taken to music from a young age. Liz explained:
"When Ashleigh was younger, I always played music to put them to sleep. I gave Ash a Casio piano, she started copying and miming the way they talk. That's the way she started out. She would come in and listen to music on the telly and then copy it. She learnt by ear - she taught herself the guitar and harp. I think she can hear something and play it."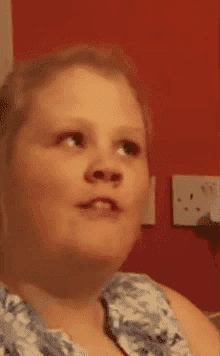 YouTube/SWNS TV
Despite her inability to read or write music, Ashleigh has been able to sing covers for various songs. In one of her Facebook videos, the youngster sat at the kitchen table as she sang Linkin Park's "Shadow Of The Day" accompanied by her guitar.
One of the things that have endeared Ashleigh to millions is the fact that not only can she play the guitar, she also has a fabulous voice, and all of it is self-taught. Despite being a teenager, Ashleigh already knows the importance of consistency and stays up in her room playing music over and over.
"It takes me a few weeks to learn a song, so I just sing it again and again," the teen, who can also tin-whistle, revealed.
The shy teenager does not like to perform before a crowd, but since becoming an internet sensation, Ashleigh is starting to warm up to the idea of blessing people with her voice.
"It makes me feel really happy. It's really nice as well that my music makes people feel good,"
After discovering her talent, Ashleigh began working with a music teacher at her Dublin school where she's been acing her music exams.
Ashleigh has done a lot of covers, but there's one singer she has a soft spot for- Ed Sheeran. Her Facebook page, "Help Ashleigh Meet Ed Sheeran," says it all.
The British singer's fan said she'd love to sing with Ed Sheeran, and that her favorite song is "Castle on the Hill."
Ashleigh now has over 100,000 followers on Facebook where she thrills fans with one brilliant cover after another.
The sky is only the starting point for this lovely girl!
MUSICAL GENIUS: MATTHEW WHITAKER
Ashleigh's story reminds us of another teenage musical genius, visually-impaired Matthew Whitaker. Dubbed the next Stevie Wonder, Matthew was given a less than fifty percent chance of survival at birth.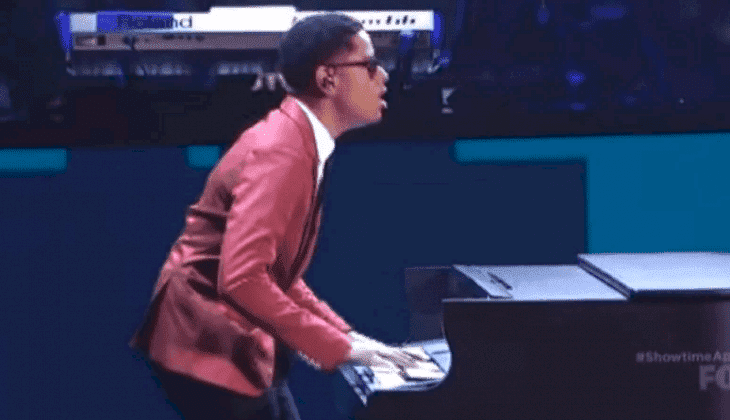 YouTube/Matthew Whitaker Channel
The musical maestro consistently rose above the hurdles to become one of the world's most talented teens. Matthew released his first album in 2017 and continues to make appearances in prestigious events and on TV shows across the country. You can read Matthew's inspiring story and watch his breathtaking performances Here.
Please fill in your e-mail so we can share with you our top stories!