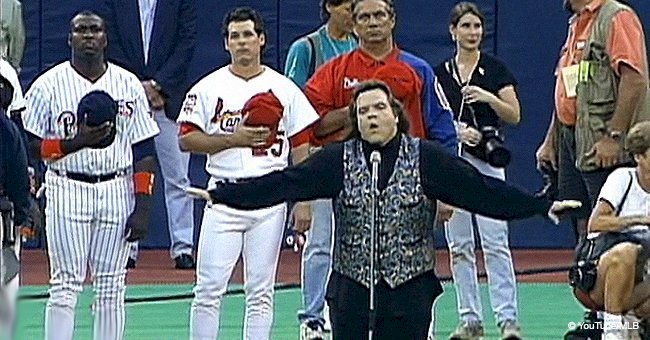 Meat Loaf's performance of the national anthem is so good that it bewitched fans (video)

Veteran singer Meat Loaf captivated fans all over the world with his incredible performance of the national anthem.
Back in the early nineties, Meat Loaf, 71, performed at the 65th MLB All-Star Game at Three Rivers Stadium in Pittsburgh, Pennsylvania.
The award-winning singer delivered a powerful rendition of "The Star-Spangled Banner." His delivery left the audience speechless and in tears.
Follow us on our Twitter account, @amomama_usa, to learn more and scroll down to relive Meat Loaf's epic performance in the video below.
A HEART-STOPPING RENDITION
Known for his powerful, wide-ranging operatic voice and theatrical live shows, Meat Loaf was accompanied by the 1994-1995 Penn State ROTC Color Guard during his performance.
In the video that was shared by MLB on YouTube, the camera films the faces of the opposing team's players, and their emotion is evident on their faces.
Meat Loaf's performance was ground-breaking and passionate, and without the typical vocal "tricks" artists use when singing the challenging composition.
RECEIVING POSITIVE RESPONSE FROM NETIZENS
Since the video was uploaded to the popular video sharing site in 2013, it amassed more than 600,000 views.
One user commented, "This is how you do the National Anthem. Look at all the people standing up for the National Anthem as well."
"The best rendition of the National Anthem I ever heard. I was there with my [13-year-old] son. We actually heard him practicing it the day before while doing a stadium sound check," added another user.
"He did this while on his big come back during the Bat out of hell II album and tour, he reminded people what a huge (no pun intended) talent he is, and if you [have] seen him live his recorded vocals don't show what the man can do live, he is a consummate performer! " commented another fan.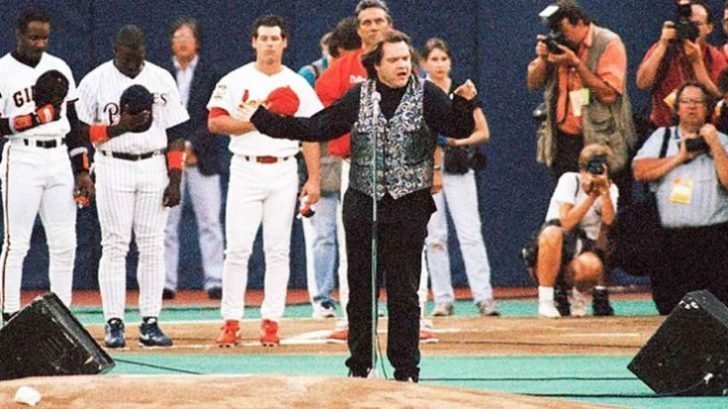 Source: Daily Rock Box
HE HANDLED IT LIKE A PRO
In 2011, the Grammy award winner fainted on stage during a concert performance in Pittsburgh.
However, after getting on-stage treatment from medics, he got back up and completed the show. Before the concert finished, he told the crowd:
"I [expletive] fainted. I have asthma... I can't breathe... And then... oh wait, I forgot... I got poked by a pin and bled half to death... and then I got slapped in the face and my tooth is loose."
Source: Societyofrock
THE LEGENDARY SINGER'S PERSONAL LIFE
Meat Loaf, who is a baseball fan and supporter of the New York Yankees, was born Marvin Lee Aday in Dallas, Texas. He formed his first band, Meat Loaf Soul, in 1966.
The name is an homage to his nickname from his football playing days when the coach called him "Meat Loaf" due to his weight.
The vocalist, who is one of the most successful singers of all time with over 80 million albums sold, once revealed that he is a shy man in his personal life, and his boisterous stage personality does not extend into real life.
Aside from his music, Meat Loaf is also acclaimed for his work in movies. He has starred in more than 50 motion pictures and TV programs, but his most remarkable performance was as Eddie in the cult film, "The Rocky Horror Picture Show."
Please fill in your e-mail so we can share with you our top stories!