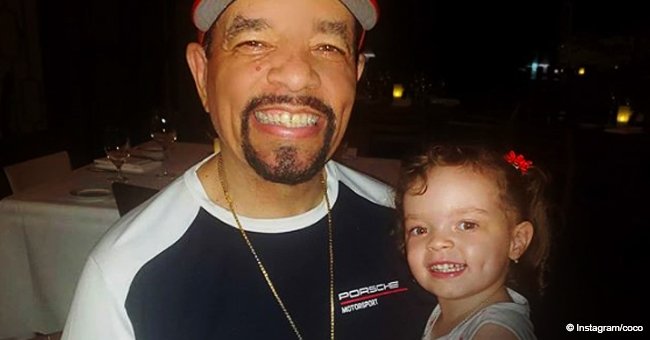 Ice-T's daughter lives her best life playing around in father's luxurious car in new photo
Ice-T and Coco Austin's daughter, Chanel, was caught playing around in one of her father's expensive cars, as seen in a pic posted by Austin on Instagram. The little girl will be turning 3-years-old in a few months, and Ice-T revealed she has him wrapped around her finger.
Chanel not only is a happy, stylish-diva baby, she's also the heir of a string of cars, properties, and royalties from her musician father's work of a lifetime. The rapper and actor loves his rides as much as he loves his family, so he probably didn't get mad about his daughter playing around on his expensive black convertible car.
The adorable 2-year-old was photographed by her mom, Coco Austin, standing on the driver seat of the car while waving her hands cutely to the lens. She was wearing a white flowery top, and her curly hair was tied in a half ponytail.
"Someone's trying to drive too soon! ...Not sure if her daddy will like her playing around in his cars, but that smile is too irresistible! Chanel loves cars. She even has a toy collection," Austin captioned the picture.
Fans of the little girl took over Coco's comment section to share their thoughts on the photo. One of them was user @cely909, who wrote:
"@coco she's so adorable once her daddy sees that smile he will forgive her right away for being in there. I was the same way I would pretend to drive at a young age, and my dad would say the same."
While @zgrmpy added,
"She the baby Her daddy won't say a word. That how life works lol."
And @mickeyspano said:
"How Precious is Chanel!!! I'm sure Daddy will be okay as long as she is very respectful and babies the cars as Daddy does!!!!"
WRAPPED AROUND HER LITTLE FINGER
On a recent interview with E! News, Ice-T revealed the reasons why Chanel is a blessing in his life, even though she was born when he was already in his fifties. He explained that although he has two elder kids, his first daughter was born when he was still in high school, and his son came when he was in the middle of becoming Ice-T, so he didn't get to enjoy fatherhood that much.
With Chanel, he was with Coco through the entire pregnancy and saw Chanel being born. He also revealed that she still sleeps in the bed with them.
He said:
"She's very much connected to me, and I love her to death. When a man has a baby on the second life of his life after 40, is like hitting a reset button. So she's keeping me young, healthy, I gotta live! I got things to do, so yes, Chanel's been a blessing."
A STAR ON THE MAKING
Like her parents, little Chanel is already developing a love for the entertainment industry. She enjoys posing with her mother for photos, striking her best poses and showing off a great attitude for a toddler.
She's not afraid of standing on stage with her father in front of thousands of people in a strange country, as she proved a few months ago when she got to tour around 31 cities in Europe with Ice-T and his rock band, Body Count.
Even though Coco revealed to People a few years ago that she wanted her daughter to pursue another career path, Chanel is an innate entertainer.
"She's definitely a performer, which I was a little worried about because I don't really want her to be a performer," Austin admits. "That's how her parents are. I think she's going to, naturally."
And continued:
"I was trying to push against that a little bit. Maybe [encourage her] to be a rocket scientist. I don't know, something I'm not. But it seems like she's going in my direction."
Please fill in your e-mail so we can share with you our top stories!