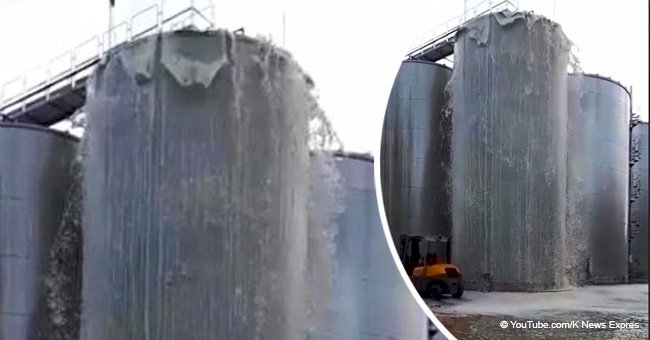 Winery loses 30,000 litres of Prosecco as fermentation tank explodes
Sad news for wine lovers around the world as a wine fermentation tank exploded, letting 30,000 liters of Prosecco flood its surroundings.
The alcoholic tragedy took place last week at a winery in Conegliano, Veneto, in the province of Treviso, in Italy.
A video of the incident was posted and shared on Facebook by the L'enoteca Zanardo Giussano winery, reaching over a million views.
Follow us on our Twitter account @amomama_usa to learn more and scroll down to watch the video.
Prosecco is a very appreciated wine, especially in Britain, the country with the most consumers of the sparkling drink.
As reported by the Daily Mail, the huge tank is believed to have overflown do to the staff overfilling it, causing it to blow up.
Although the tank may have been overfilled, a faulty lid could have also caused the explosion that led to thousands of wine to go to waste.
Luckily to the wine-producing region, the wineries in Veneto managed to get one of the best harvests ever recorded, so the loss wasn't as bad as it could have been.
Several people on Facebook couldn't help but leave a comment, with most of them saying that they would have stood under the huge tank to catch all the wine with their mouths or buckets.
But while the situation might seem fun, a 30,000-liter spill is not a joke and it could severely hurt a brand if it ever happened.
As previously mentioned, it was quite fortunate for the region that 2018 was such a good harvest, otherwise, the losses could have been catastrophic.
This wasn't the first time that thousands of liters of good wine have gone to waste; back in 2005, 30,000 bottles of Spanish wine were drained into the streets of France.
For wine lovers around the globe, the drink is one of life's greatest pleasures, and it has been reported that drinking wine may help a person live up to 90 years of age or more, although more studies are still being conducted.
Please fill in your e-mail so we can share with you our top stories!