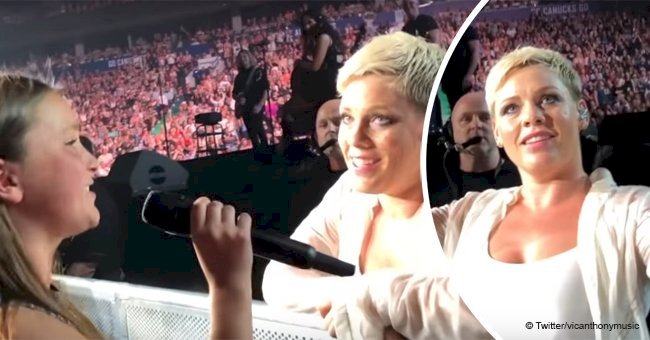 Pink hands microphone to 12-year-old girl, and she steals the show with her magical vocals
Pop singer Pink was blown away during one of her concerts by Victoria Anthony, a 12-year-old fan who sang one of her songs right in front of her.
Victoria has always been a big fan of Pink and wanted nothing more than to be able to sing with her. That prompted her mother, Christina, to intervene.
The video of the special moment ended up being uploaded to Youtube, and Victoria took the opportunity to thank the singer for making her dream come true.
Follow us on our Twitter account @amomama_usa to learn more.
ANYTHING FOR HER LITTLE GIRL
It all started as a joke, when Christina heard her daughter say that she would like to step on stage at Pink's Beautiful Trauma tour date in Vancouver, Canada.
Despite Victoria not believing that it would be possible, Christina moved heaven and earth to make sure that her daughter's dream would come true.
GETTING THE WORD AROUND
She took to social media and created the hashtag #VicAndPink, sharing videos of Victoria covering the pop star's greatest hits.
The news eventually reached Pink, and during the concert, she approached Victoria and introduced herself as Alecia, the artist's real name.
A PLEASANT SURPRISE
The 39-year-old then passed the young woman the microphone and asked her to sing whatever she wanted and the result was nothing short of spectacular.
The music industry is ferocious and it can be pretty hard to stay relevant in it; the reason why is because it is hard for newcomers to upstage already established singers.
SHE WAS NOT EXPECTING THAT
But Victoria didn't back down; although she was singing in front of her idol and 20,000 people in the audience, she performed a rendition of Pink's "Perfect."
Pink was enchanted by Victoria's voice and, in the end, she told her that it was 'amazing,' and that she should never stop, which made the 12-year-old smile even wider.
Victoria wasn't the only one to have the honor to sing with her hero; recently, an 11-year-old boy named Connor, who suffers from Tourette syndrome, was invited on stage by Carrie Underwood.
At first, the boy was very nervous and hesitant, but eventually loosened up and sang a few words of the song "Little Toy Guns" in front of Underwood, who sang along with him.
Please fill in your e-mail so we can share with you our top stories!