LeAnn Rimes' performance of Patsy Cline classic is so good that it charmed fans
LeAnn Rimes is a singer who made her breakthrough into the country music in 1996. Her performance of Patsy Cline's classics will be in people's mind for a long time.
Even though Rimes didn't get an award during the 2013 edition of the American Country Awards, she made history with her unforgettable tribute to Cline, one of the greatest legends in country music.
The event took place at the Mandalay Bay Resort & Casino in Las Vegas on December 10. Before getting Rimes onstage, Luke Bryan shared some touching words about Cline's life.
After that, he said that they would remember the talented singer with the help of a "beautiful young woman" who began her career being called "the next Patsy Cline."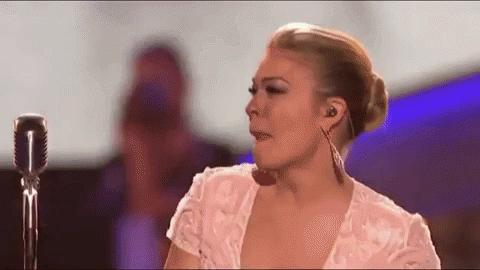 A VINTAGE TOUCH
Rimes got onstage wearing a long sequined dress. Behind the artist, there was a huge screen showing photos of Cline, who passed away at the age of 30 when her career was at its highest point. The black and white image and the vintage mic gave final retro touch for the presentation.
SHOWING HER TALENT
During the show, Rimes set clear why she was chosen for such a tribute and why she was labeled the next Patsy Cline by performing some of the late artist's hits like "Crazy" and "Leavin' on Your Mind." Read more on our Twitter account @amomama_usa.
"I just want to say it takes one great singer to take a Patsy Cline song and LeAnn Rimes just reminded us she is one great singer. I take my hat off to her," said Trace Adkins, the co-host of the ceremony.
AN EMOTIONAL TRIBUTE
When Rimes finished signing, she couldn't hold her tears back. She waved a kiss to the sky, greeted the audience, and finally turned back to point at Cline's photo on the screen.
HER HEALTH ISSUES
A couple of years ago, Rimes opened up about a chronic disease that she has suffered since she was two years old: psoriasis.
According to Mayo Clinic, it is a common skin condition that causes cells to build up rapidly on the surface of the skin. It often creates red patches that might be itchy and painful.
HER INSECURITIES
Amid her success, Rimes revealed that her health struggles made her feel very insecure about her physical appearance as she even started hating her skin.
The singer revealed that because she was very insecure, she resorted to wearing long jeans or two to three pairs of pantyhose in the past. Thankfully, her skin is clear now, and her confidence got stronger, too.