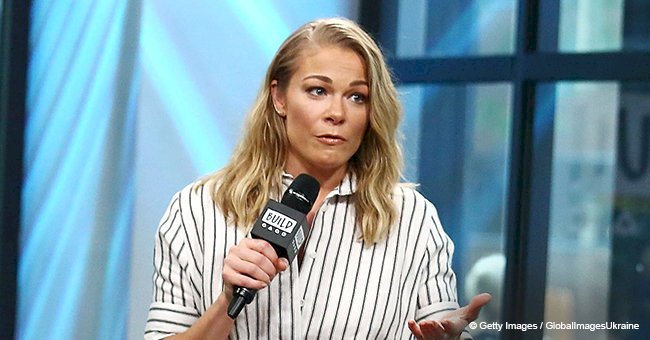 LeAnn Rimes made an emotional confession about her struggle with a chronic disease
Country singer LeAnn Rimes opened up about suffering from a chronic disease since she was only two years old known as psoriasis.
Behind the glitz and the glamour, Rimes had been keeping a secret illness for a long time.
She has achieved so much in her career. When she was 14 years old, she became the youngest person to win a Grammy for Best New Artist and Best Female Country Vocal Performance for her debut album "Blue."
Amid her success, she revealed years later that she had been going through a health struggle since she was young and it made her feel very insecure about her physical appearance.
Follow us on Twitter at AmoMama USA for more details and updates.
RIMES SAID PSORIASIS "WAS A NIGHTMARE"
Rimes confessed that being diagnosed with psoriasis at such a young age made her hate the skin she's in.
Having gotten the illness when she was just two had such an impact on her as she was growing up.
The singer revealed that because she was very insecure, she resorted to wearing long jeans or two to three pairs of pantyhose in the past.
"It was a nightmare. I started taking a biologic drug. I take a shot every two weeks, and I hate needles, but that's what I had to do to get my skin clear. I went through every type of treatment known to man."
SHE SAID IT AFFECTED HER CONFIDENCE
In an interview with Today, Rimes went into detail about her road to recovery.
She shared that at one point when she was six, almost 80% of her body was covered with psoriasis.
"I didn't realize how much it had impacted my self-confidence and just really kind of feeling like a woman," she said.
It took some time for her to regain her confidence but she said her music was a big help. It was the perfect distraction for her.
"As I get older, I've learned how to accept the things that bother me about myself and really start to love those things. They're what make me, me. My advice to others is to own it. Own who you are, because it feels really good when you do," said Rimes.
RIMES AND HER NEW OUTLOOK IN LIFE
Fortunately, Rimes was able to discover a treatment that worked for her. Although she still had breakouts every now and then, the improvement on her skin was beyond what she expected.
Her journey wasn't easy, but now, Rimes happily shared how her outlook on life changed for the better.
For her, the journey she experienced made her understand how beauty is more than the physical appearance and that it is truly skin deep.
Rimes's condition is rare since only two percent of the population in the United States suffer from the same chronic skin condition.
Healthline explained that there are 150,000 news cases annually and up until now, there is still no cure for psoriasis.
Please fill in your e-mail so we can share with you our top stories!