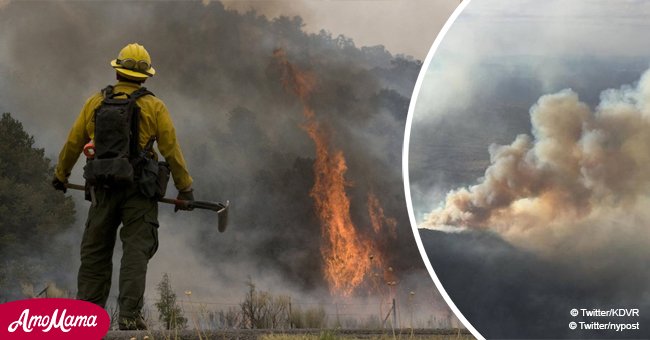 Gender-reveal costs husband $8,000,000 after it starts a massive wildfire
A border patrol agent has been sentenced to pay eight million dollars in restitution after accidentally starting a wildfire that burned 47,000 acres.
Dennis Dickey, a 37-year-old man from Tucson, Arizona, has pleaded guilty of igniting the 2017 fire on Friday, September 28, 2018.
As reported by CNN, Dickey wanted an exciting gender reveal party and ended up causing the massive fire that became known as the Sawmill Fire.
Follow us on our Twitter account @amomama_usa to learn more.
Dickey pleaded guilty to a misdemeanor violation of U.S. Forest Service regulations for igniting the Sawmill Fire and agreed to a five-year probation sentence.
The eight-million-dollar retribution will start with an initial payment of $100,000 and the border patrol agent will have to make monthly payments thereafter.
FROM JOY TO HORROR
The incident took place back on April 23, 2017; Dickey planned to shoot a rifle at a target filled with Tannerite, a highly flammable and explosive substance.
The container would explode and release a blue or pink powder, but, unfortunately, the explosion wasn't controlled and set fire to the woods nearby.
COMING FORWARD
The Sawmill Fire burned over 47,000 acres of forest and over 20 agencies united forces to fight the flames for an entire week.
After igniting the fire, Dickey immediately stepped forward and reported it, admitting that he was the one who started it and explaining how it was all an accident.
CAUGHT IN THE FLAMES
Wildfires are extremely dangerous, for both animals and people; recently, a father and son were forced to run for their lives after a huge fire broke out at Glacier National Park.
Justin Bilton, the son, managed to record their escape by holding his phone with one hand and driving with the other and the footage quickly went viral on social media.
The two can be heard fearing for their lives as they pass through walls of flames and burning trees. Eventually, they hit a dead end and have to drive in reverse to safety.
They were rescued by a boat after attracting the occupants' attention but, even though they escaped, they will never forget the traumatic experience.
Please fill in your e-mail so we can share with you our top stories!