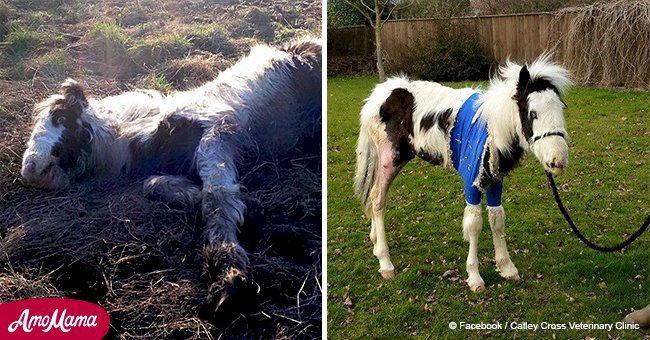 Horse found near death's door makes an incredible transformation

Gizmo the colt was found sick and abandoned on a roadside, but after he was rescued his life was transformed.
A colt was found collapsed on a roadside in February 2017, and rescuers thought his chances of survival were slim at best.
The colt was taken into the care of Catley Cross Veterinary Clinic barely breathing, and a dedicated team worked to keep him alive. His recovery stunned the medical team and his story was posted on Facebook/CatleyCrossVeterinaryClinic where it has astounded and inspired thousands.
THEY NAMED THE COLT "GIZMO"
The tiny horse, which they named Gizmo, was four months old and he was deadly ill. The colt had been abandoned and was suffering from hypothermia, dehydration, and pneumonia.
His black and white coat was unkempt and riddled with lice, and in places eaten through, leaving his sensitive skin exposed.
GIZMO WAS ON THE VERGE OF DEATH FIGHTING PNEUMONIA
The malnourished colt's body just didn't have the strength to fight pneumonia, and the vets thought he would succumb to the infection.
EXPENSIVE TREATMENT FUNDED BY DONATIONS SAVED HIS LIFE
Gizmo's medical treatment was costly, particularly the medications the Clinic had to buy, but people heard about the tiny colt's plight and donations poured in.
Gizmo endured through constant blood transfusion and antibiotic treatments, and finally he pulled through.
Gizmo recovered completely, and he won two accolades at the 2018 Equifest. The Equifest is one of the largest horse events in Britain's equestrian calendar and one of the biggest equestrian competitions in the country.
Read more on our Twitter account @amomama_usa.
ANOTHER SAD STORY OF ABANDONMENT AND HUMAN CRUELTY
Romania has a population of wild horses that are now under pressure and in need of protection since it is a local habit to chain the animals to keep them away from cultivated areas.
The Four Paws Rescue organization sent a team into the wilderness near Letea, in search of wild horses that were rumored to be mistreated.
The horrified team found a mare left chained to starve, but the greatest cruelty was that whoever had chained her had torn through one of her eyes.
The animal had the chain wrapped so tightly around its face that it had ripped off her skin. One of the team members sedated the animal in order to free it.
The mare was also suffering from malnutrition and was taken to a rescue facility to recover. When she is in good health again, she will be moved to a wild horse sanctuary where she will be safe.
Please fill in your e-mail so we can share with you our top stories!