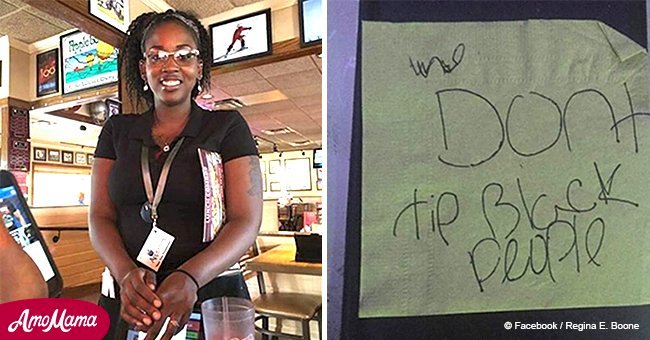 Waitress given rude racist note with offensive words on a napkin instead of a tip

A Kentucky woman claimed that her daughter received a racist note during her shift at Applebee's. She shared the story to Facebook and received tons of reactions.
Regina Boone's daughter Jasmine Brewer brought home the napkin on which the back read, "We don't tip black people." Boone said it left her hurt and embarrassed. The post is found below.
According to Rare, the mother is a teacher at G.C. Burkhead Elementary School. She is also a self-proclaimed advocate for racial issues.
Follow us on Twitter for more @amomama_usa.
Boone shared a picture of the napkin on Facebook and wrote in the description:
"This is why they kneel! I'm very vocal and always will be! You think racism doesn't exist, IT DOES!"
Following her post, many who were outraged decided to extend assistance to Brewer by giving her the "tip" she rightly deserved.
The young lady who has been working at Applebee's since July received nearly $200 in donations. The event also prompted Applebee's to release a statement in response to the post.
The company stated that all restaurant team members deserve dignity and respect in how they are treated.
They also made it clear that the remarks on the napkin were unacceptable and inconsistent with their brand values.
A similar incident occurred in July 2018. This time the discrimination was against a waitress whose name did not appeal to some customers.
Khalil Cavil worked at a Texas steakhouse in Odessa. One night when he looked down at his customer's bill, he saw a note.
It said:
"We don't tip terrorists."
The customer had circled Khalil's name to reveal what led to their vile statement.
Khalil was left "sick to [his] stomach" and shared the photo on Facebook to remind people that "this hatred still exists."
The COO of the Saltgrass Steak House where Khalil worked said that the customer was banned from the restaurant.
Meanwhile, Khalil received lots of support online and was inspired to change the world after the incident.
In a twist of roles, a waitress named Tabbie Duncan was fired for racist comments she made on social media about four months ago.
Duncan, a recent recruit by the Air Force Reserve, appeared in a racist video that went viral. In it, she used the n-word many times.
Duncan claimed that she was drunk but she is not a racist. She also admitted she needed to "seek help."
Please fill in your e-mail so we can share with you our top stories!