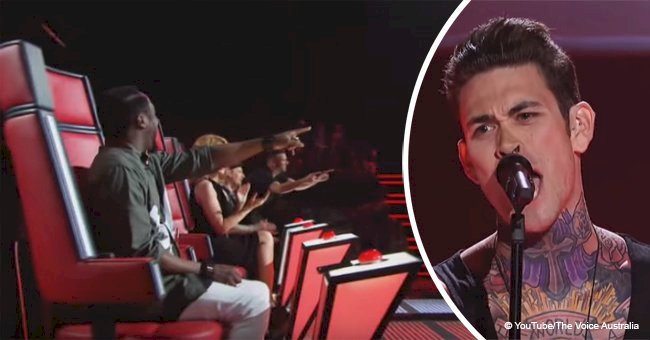 Opera singer turns only one judge's chair, but the other judges are blown away at his appearance

Matthew Garwood's voice was what deceived judges on "The Voice Australia" as they faced away from him. When they finally turned around, they were in awe.
Garwood stepped onto the stage in a black tank top, showing off his tattooed chest, arms, and neck.
He wore his hair sleeked back and his nose and ears were pierced. But the judges were unaware of any of that.
Follow us on Twitter for more @amomama_usa.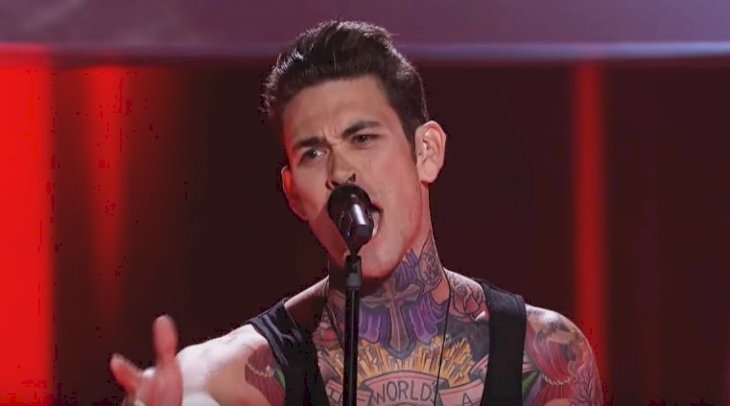 Source: YouTube/ The Voice Australia
All they heard was Gordon's beautiful voice as he sang "All I Ask of You" from Andrew Lloyd Webber's "The Phantom of the Opera."
Ricky Martin was the only judge who pressed the red button to turn around and view the unique performer.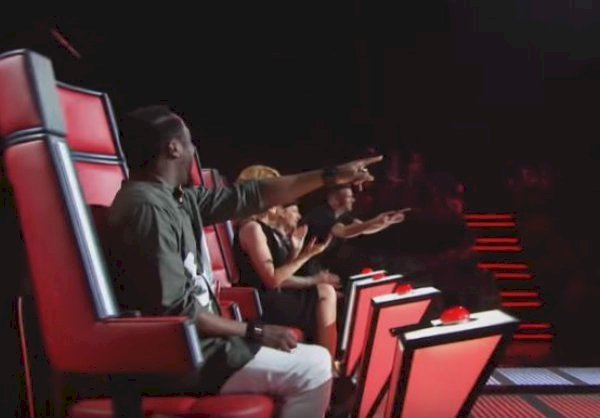 Source: YouTube/ The Voice Australia
When Garwood was finished, the other judges also turned and were shocked. Will I Am said: "You like totally freaked everybody out."
All the judges stood up and approached Garwood. Judge Joel Madden, who is heavily tattooed himself, admitted that even he was "amazed" when he saw Garwood.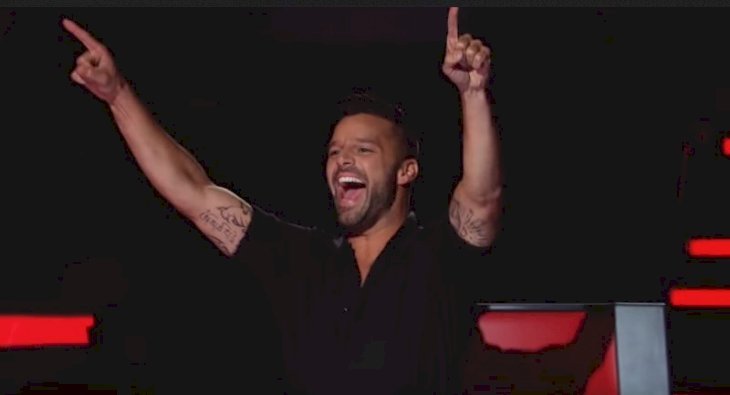 Source: YouTube/ The Voice Australia
Will I Am playfully joked that the crew was messing with them and that it was someone else who sang the song. Madden suggested he should be singing "Bullet For My Valentine."
But Garwood explained:
"I've always been into musical theater because I love the dramatics of it."
He added:
"[You can] take people on that journey and make them feel and that's the dramatics and the theatrics that I love about musical theater."
In all the excitement, Martin, who had taken Garwood on board his team, forgot to ask the singer his name.
He ran backstage where he met Garwood's dad and then asked his new team member's name.
Garwood went on to reach the finals of the show in 2014. November of that year, he released his debut album appropriately titled "The Tattooed Tenor."
Source: YouTube/ The Voice Australia
Most recently, Garwood played the role of Anthony in The Playhouse Theatre production of "Sweeney Todd" from June to July 2018.
Another shocking performance was given by 29-year-old Edel Pierre at Russia's "The Voice."
Pierre, who came from Paris, France, also had tattoos but his reached all the way up to his head.
His stretched earlobes further masked what was to come. Pierre belted out a powerful rendition of Led Zeppelin's "Whole Lotta Love."
Source: YouTube/ m voudou
The judges were immediately impressed. They turned around only to be shocked by the jarring sight of Pierre.
Rendered speechless, the judges got a serious lesson about not judging a book by its cover.
"The Voice of Italy's" judges got their chance to be stunned when they were faced with a nun who sang Alicia Key's "No One."
Again, the judges sat with their backs to the contestant, Sister Cristina Scuccia.
The audience stood up soon after she began singing, intriguing the judges and forcing two of them to quickly spin around.
Source: YouTube/ The Voice of Italy
The pair then encouraged the remaining judges to turn, insisting they would not regret it.
Of course, they were all shocked by not only her strong vocals but also her modest appearance in the packed hall.
Scuccia went on to win the competition and return to her priorities of prayer, early morning risings, and school service.
Please fill in your e-mail so we can share with you our top stories!