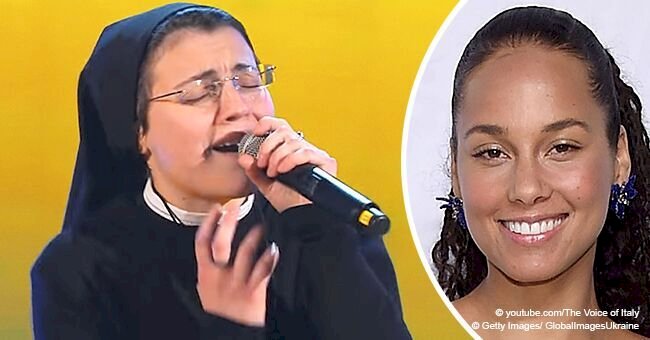 Nun went viral after performing her version of Alicia Keys' song 'No One' on 'The Voice Italy'

Sister Cristina Scuccia, a nun from Italy, went to "The Voice of Italy" to perform Alicia Keys' hit song "No One." The coaches and the audience got very surprised with her performance.
In the YouTube video showing the blind audition, Cristina appeared in the middle of the stage wearing a traditional habit while three other nuns were backstage cheering her. As soon as she sang the first lyrics, people from the audience stood up.
The coaches noticed it and were very intrigued by the singer. The first one who hit the button was singer J-Ax, and soon later coach Noemi joined him. They couldn't believe their eyes when they noticed that it was a nun who was singing.
J-Ax begged the rest of the coaches to turn their tables, too, as they would not regret it.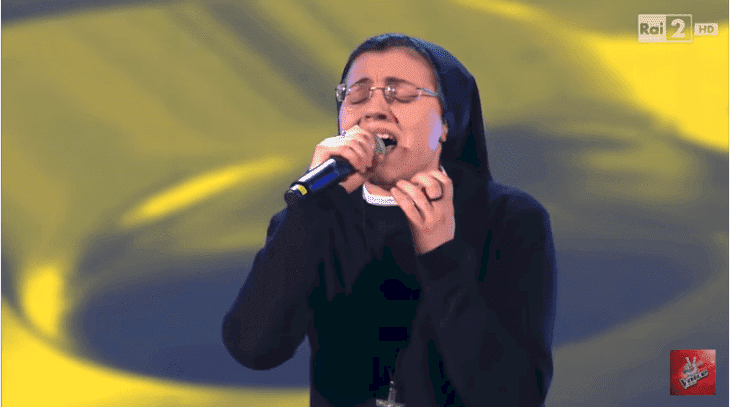 Source: YouTube/The Voice of Italy
EVERYBODY BUT ONE COACH LEFT
Piero Pelù did it first, and he smiled from ear to ear and lifted his arms up pointing at Cristina when he looked at her. J-Ax kept asking the last coach, Raffaella Carrà, to hit her button.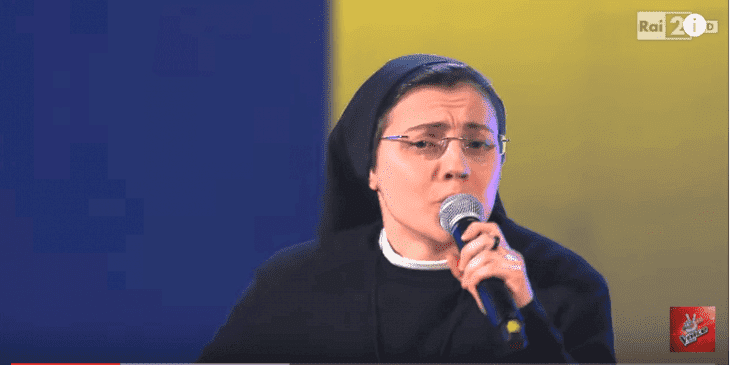 Source: YouTube/The Voice of Italy
RAFFAELLA'S JAW DROPPED
Finally, the singer and actress did it but kept looking at J-Ax letting him know that she only did it because he asked. When her chair turned around completely, and she saw that Cristina was a nun, her jaw dropped.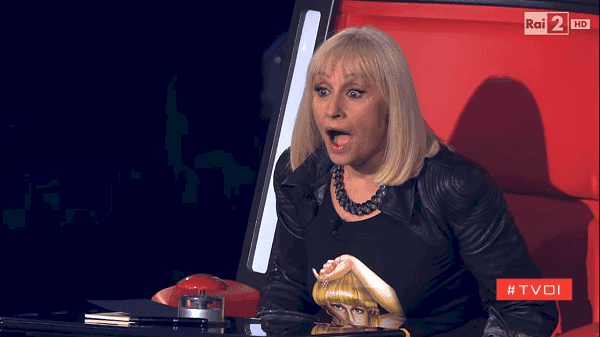 Source: YouTube/The Voice of Italy
All coaches were gladly surprised by the presentation, which was both flawless and energetic. The audience gave her a standing ovation and, after getting praised by all coaches, she chose J-Ax.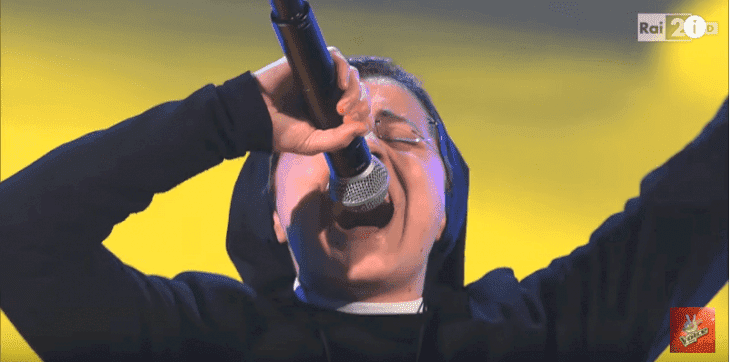 Source: YouTube/The Voice of Italy
SHE BECAME "THE VOICE OF ITALY"
Week after week, the nun hit the stage with wonderful performances, and she ended up winning the competition. She later pointed out that she would go back to her priorities, which were prayer, waking up early in the morning, and school service.
Mission Chretienne revealed that Cristina faced a lot of criticism over wearing her full habit while performing as it was seen as unnecessary exhibitionism. Thankfully, most of the Catholic press and followers showed their support.
ANOTHER SURPRISE
Something similar took place in the most recent season of "The Voice," when coaches Blake Shelton, Adam Levine, Jennifer Hudson, and Kelly Clarkson couldn't believe that a 13-year-old teen, Kennedy, could sing in such a wonderful way.
Blake pointed out that she could win the show, Jennifer got onstage with her to sing a short duet, and Kelly couldn't hold back tears. Kennedy has a bright future ahead.
Please fill in your e-mail so we can share with you our top stories!