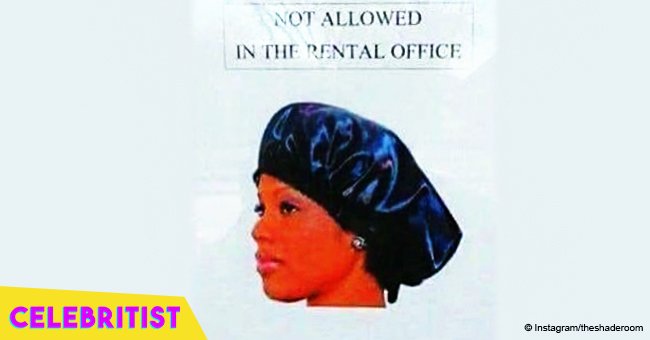 Viral photo of sign that prohibits wearing sleeping bonnets in a rental office slammed as racist
A photo that The Shade Room uploaded to Instagram showing a rental office that banned wearing sleeping bonnets in there became viral for "racist" implications.
The image showed a piece of paper placed on the glass of a rental office portraying a Black woman wearing a black sleeping bonnet with the text "not allowed in the rental office" in capitals.
As soon as The Shade Room uploaded that photo, several people took to the comment section to share their thoughts. While some of them said that there was nothing wrong with the sign, others pointed out that it was clearly racist.
PEOPLE'S REACTION
@ryandaviscomedy wrote: "If you don't think its racist name another race of women that wears those. I'll wait..."
@simonsays1_ chimed in and said that the action was both discriminatory and repulsive. She added that paying the rent had nothing to do with sleeping bonnets. At the moment, the photo has almost 150,000 likes and has been reposted several times.
A COMMON PRACTICE
As BET reported, it is common for Black women to wear either a scarf or a bonnet before sleeping as a way to have a "good hair day" the following morning.
EXPERTS' RECOMMENDATIONS
Cosmetologist and IAT-certified trichologist Sophia Emmanuel pointed out that one of the principal recommendations for women who wear them was not sleeping with scarves or bonnets that are tied too tight.
If that happens, the chances are that the hair would lose strength, causing breakage and hair loss.
DIFFERENT HAIRSTYLES
Apart from that, Emmanuel pointed out that for straight, smooth, or flat hairstyles like cornrows, people should wear headscarves.
For women with voluminous hairstyles, including Flexi Rod sets and twists, Emmanuel's recommendation was wearing bonnets as they would not flatten the hair.
A SIMILAR RACIST ISSUE
Something similar took place in an Applebee's restaurant. This time, the victim was 26-year-old waitress Jasmine Brewer, who didn't get a tip but an awful note.
When the family left the establishment, Brewer went to the table to get the checkbook back, and found a piece of paper that read "we DON'T tip black people."
The restaurant later released a statement saying that it was an unacceptable incident and defending their employee.
Please fill in your e-mail so we can share with you our top stories!