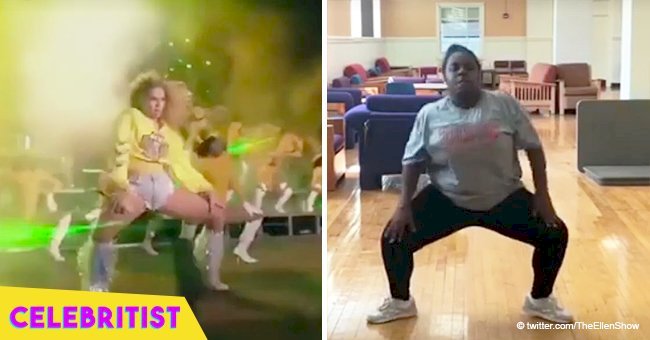 College student nails Beyoncé's Coachella moves in amazing 'Ellen Show' performance

Beyonce has a concert double who goes by the name of Briyonce. She's a college student who's mastered the singer's dance moves and even performed them live on "Ellen."
Should Beyonce need a concert double, she could count on this college student anytime. Brianna Bundick-Kelly who's now known as Briyoncé showed talk show host Ellen DeGeneres how she can nail an imitation of the songstress' Coachella performance.
Bundick-Kelly came to the attention of the famous talk show host when she posted an Instagram video showcasing her amazing duplication of Beyonce's signature dance moves. According to Bundick-Kelly who sat down with DeGeneres after her video went viral, it took her 40 minutes to learn Beyonce's moves and another hour to master them.
Since 2016, Bundick-Kelly has been posting videos paying tribute to the concert diva rendering some of her more iconic performances on stage.
Her Coachella performance hit home when it garnered more than five million views and caught the attention of DeGeneres.
Bundick-Kelly performed it live on the show to the amazement of fans. Watch the clip below to see how she impressed DeGeneres' live audience.
But Beyonce isn't the only concert performer Bundick-Kelly devoted her dance time to. When Janet Jackson announced on Twitter that she was casting for dancers, Bundick-Kelly tweeted her audition dancing to Janet's 2006 hit "So Excited." Her tweet earned 10,000 likes at the time.
Beyonce and Janet are both celebrated concert performers who've recently been touring the globe sharing their talent to the world.
Beyonce is on her final leg of her "On The Run II" tour with her husband Jay-Z. Celebrities and famous personalities have witnessed the couple's show including Barack and Michelle Obama who watched their show in Maryland and Oprah Winfrey who rocked to their tunes in Los Angeles.
Meanwhile, Janet Jackson just concluded her "State of the World" tour, the remaining shows of which she almost canceled when her father Joe Jackson passed away. Realizing the best way to honor her father was to go on with her show, she re-emerged on the Cincinnati stage determined to give her best.
Please fill in your e-mail so we can share with you our top stories!